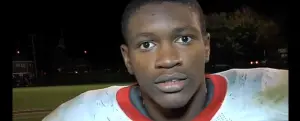 Jason Cabinda may be the most interesting man in Syracuse when he arrives to play for the Orange next year. The class of 2014 prospect committed to SU yesterday and tells The Fizz he felt right at home while walking through the campus.
He says no other school felt "right" for him like SU did. He's a hard hitting linebacker and defensive end for Hunterdon Central in New Jersey, but also is fluent in French.
"Yea, my whole family is from Cameroon. I missed [being born there] by a couple months, but my mom, my dad, my sister are all from West Africa."
The hulking 6'2″ 225 lbs 3-star product is just as intimidating in the classroom as is he on the gridiron.
"I want to major in brokerage, or finance. [One of Syracuse's advisors] told me about a dual program with finance and communications. It would be great to do, because I'm great with people, I have good people skills. I was always good with math and I want to make money (laughs)."
It's not too often a you hear a 17-year-old explain the finer details of life after college football. The Syracuse commit has his priorities straight.
 "At any given moment, [you could suffer] a knee, an ankle, a torn ACL, you got to be ready to say, 'I got this degree in my back pocket, I'm going to be able to do this or that.' Think about it, the average NFL career is what, 5 years? And let's say you even do go for ten years, then you're 31, you're out of the NFL, what are you going to do now, you know? You still have another 30 years to work, you have to do something."
The Fizz presents, ladies and gentlemen, the charismatic Jason Cabinda. He's the team's defensive captain, and also ran for close to 1,500 yards and 22 touchdown's in the backfield last season. He's already the fourth LB commit in Scott Shafer's first ever full class, and has an unprecedented maturity that Syracuse coaches Clark Lea and Chuck Bullough couldn't turn aside. The two were in contact with Cabinda briefly before offering the defensive standout in May.
"I was getting letters from Syracuse but it wasn't really personal, until one day someone picked up the phone, and Coach Lea chatted with me that day, saying, 'love the film, give me a call, etc.' I gave him a called and he offered me right then and there. I was so excited about it."
The coaches just wanted to check how much character he really had. Cabinda admits to The Fizz he and his mother loved Lea, and enjoyed the family oriented feel at SU. He listened while Shafer talked about setting good examples for kids in SU's program. Cabinda knew Syracuse was right for him. More so than some of the other contenders on his list, Boston College, Temple, and UConn.
The LB says he didn't feel like he fit in at those other campuses. He marveled at how Shafer and Lea could joke around with each other so poignantly one minute, then exude the same authority a coach would need to lead an ACC football program the next. He was also was amazed by CNY and campus during his visit two weekends ago.
"I actually love playing inside [in the Carrier Dome], I think that's cool. The campus was great, beautiful, very clean. That's one thing that put me off about Temple. It just wasn't my place, it was a bit too trashy, too city for me."
Cabinda's a blue-collar worker, much to the delight of Shafer. And it's not just the coaches he feels he fits in with at Syracuse. The LB talked extensively with other 2014 recruits like Zaire Franklin, Colten Moskal and AJ Long. Different chapter, same compelling story for the seven member 2014 class.
"They're good kids, they have their heads on right, they're my kind of guys. [We communicated] very natural, I feel like we've already known each other which is a great feeling."
On the field, the LB is a powerhouse. His size makes him a force on the defensive side of the football, and he carries a load while running with the pigskin on offense. He sees holes before they open up, and uses blazing quickness to burst through the line of scrimmage. His highlights are filled with just as many gravity-defying hurdles, as there are punishing lead blocks. This is the benefit of having a 6'2″ 225 lbs mammoth in the backfield.
"My athleticism and my tenacity [are my strengths], and I think you can see that in my highlight film. I hate going down. I'll have a couple plays where I'm pushing piles, and you can see the unwillingness to go down." 
It was only coincidence he decided to announce his decision on Twitter on the same day Syracuse officially joined the ACC. He wanted to be worry-free senior year. Now it's strictly football for the Hunterdon Central Red Devil.
The former lacrosse and basketball star at his high school will also run track this winter to build his quickness, and to take his game to the next level.
"They say in high school sports, D1 players are the ones who are able to take over games at any moment's time, and I want to be able to do that. I want to be able to finish runs better and making everyone on my team a better leader."
Well said, although that's nothing out of the ordinary from the 3-star LB. SU must wait another year to watch Cabinda in the Syracuse uniform, but Orange Nation may have found it's next defensive leader.
Posted: Kevin Fitzgerald
(adsbygoogle = window.adsbygoogle || []).push({});