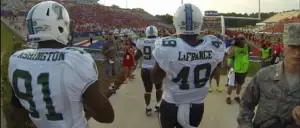 The quarterback competition may technically still be open, but Terrel Hunt should be the guy from here on out. Hunt was 15-for-18 with 265 passing yards and three touchdowns last week. He was better than just good 'Äì he was very good. It was a punch to the stomach for Drew Allen's hold on the job, who was severely outplayed. Allen was 8-for-11 and threw for 62 yards and a touchdown. Jarrod West caught five passes for 147 yards and a touchdown. He and Hunt connected well in the spring game and reunited on the gridiron in strong fashion on Saturday. This week'Äôs task switches to Tulane. The 2-1 Green Wave beat Louisiana Tech 24-15 last weekend behind two touchdowns from quarterback Nick Montana. Here are five things to watch for against the Green Wave.
1) Does Hunt keep it up?¬†¬†Hopefully Hunt'Äôs success was not a fluke.¬†Orange fans around the country beleieve he can continue his winning ways. Against Wagner he averaged more than 14 yards per completion and connected with Prince-Tyson Gulley for a 30-yard touchdown, Chris Clark for a 41-yard score, and then the big 65-yard touchdown to West. Hunt communicated and connected with his pool of receivers. He looked calm and composed in the pocket. The offense moved both through the air and on the ground effectively with him. Let's see if that continues Saturday. If so there's little chance we'll see much more of Allen this season.
2) Does Syracuse get those yards on the ground? Eight players combined for SU's yardage on Saturday. The offense spread it around. Syracuse had 236 yards on the ground,, and Tulane allowed 124 rushing yards to Louisiana Tech and 297 the week before. The Green Wave run defense is inconsistent and if it is anything like Wagner, Jerome Smith could score a touchdown in his fourth consecutive game. If the pass offense is not as effective as it was against Wagner, the ground game will need to step up. That'll be the bread and butter of the offense when league play starts.
3) Nick Montana is not Joe Montana.¬†The Tulane quarterback is Joe Montana'Äôs son. Nick has helped his team offensively with Tulane averaging 32 points per game. He has thrown five touchdowns in his last two games and completed over 55 percent of his passes in each game. He also has not played a team in a major conference like the ACC. The talent, offensively and defensively is tougher, which means Montana will have to pull some of his dad's magic to win at the Dome.
4) Montana will complete his passes. Tulane will not be shutout like Wagner was. Ryan Grant, not to be confused with former Green Bay Packer running back, has rushed for 348 yards and three touchdowns this season. The Syracuse defense has given up 23 points per game with the big game being Northwestern. Tulane's offense is not as explosive as Northwestern's, but the Orange must be focused on the defensive line to avoid a big game for Grant. If the defense can't stop the running game, it's double trouble because Montana has looked good through three games completing his passes for yardage.
5) Will Syracuse be 2-2? This is the big question. The first two games were disastrous for the Orange, but the schedule is kind. Two non-conference opponents at home gives Syracuse the best opportunity to move back to .500 going into its toughest game of the season against Clemson on October 5. The Tigers will be the biggest task of the season for Syracuse and confidence going into that game could be key. In each of the last two seasons, the Orange has upset the one team nobody expected it to. In 2011, it was a big win against Geno Smith and West Virginia. Last season, it was an offensive explosion against Louisville. Will this year be Clemson? A Syracuse win gives the players confidence not only in themselves, but in each other too. Receivers will trust Hunt, and he will return the favor. The defense will blitz effectively and the team Syracuse fans saw against Penn State and Northwestern will be in the past.
Prediction time: Syracuse wins 37-20. Hunt will prove he is the quarterback of this team. He will prove how he worked on communication with receivers during practice and how that gives the entire offense the confidence to work effectively with Hunt as the quarterback.
Posted: Austin Pollack
(adsbygoogle = window.adsbygoogle || []).push({});