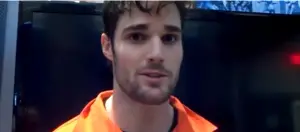 Charley Loeb was put in a tough situation this year. After three seasons as Ryan Nassib's backup, it looked like Loeb could get his shot to run the team. As it turns out, he lost out to both Drew Allen and Terrel Hunt.
But Loeb says the competition was tough, and in the end, everyone made out for the best. This year, Loeb has taken on more of a coaching role on the sidelines, relaying signals to Hunt and the offense as George McDonald gives other signs for the plays, something Loeb says the coaches asked him to do. Loeb added he has enjoyed the experience and he could see himself coaching to stay close to the game after he graduates in May.
On the matter of the coaching change, Loeb says the major difference is that Scott Shafer is a defensive guy and Doug Marrone was an offensive one.
"No two coaches are the same, but because Shafer was on Marrone'Äôs staff, not much had changed."
It is interesting to think not much has changed since Marrone took so many coaches to Buffalo.
Loeb also has an interesting perspective on the play of Hunt and know what he is expected to do in the gameplan. Hunt came in and lit up Wagner and Tulane, making the offense look like a more cohesive unit than it had been under Allen. Loeb said that Hunt simply executed well and exploited the defense's weaknesses. He also said the supporting cast seemed to play better, the wide receivers made plays and the line held more blocks.
As for Hunt's struggles against Clemson, Loeb attributed it more to the Tigers' defense.
"They are a very, very good team. Something goes into that we did have over 300 yards rushing, and if you are going to take away the pass and let us run for 300 yards, it is going to be harder to pass the ball. I think Terrel still did a great job managing the game."
While Loeb could be putting a good face on for the team, it still must be difficult to say that Hunt managed the game well when he completed just 8 of 24 passes, threw three interceptions and led the offense to just 14 points. Loeb added that Hunt has a bright future. Loeb seemed to think that if Hunt keeps doing what he is doing, he will be a solid quarterback for the Orange for the next couple of years.
Loeb brings an interesting perspective and is extremely smart. If coaching is something Loeb wants to get into – and he said it is – the Orange would be lucky to have him, perhaps as a graduate assistant in the immediate future and then as some kind of positions coach thereafter.
Posted by: Seth Goldberg
(adsbygoogle = window.adsbygoogle || []).push({});