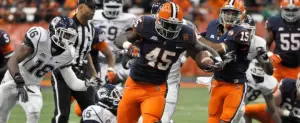 The three most important letters surrounding college athletics these days are "APU"'ÄîAll Players United, that is. That'Äôs the message the National Collegiate Players Association made a week and a half ago when several top college football players from multiple institutions across the country wore wristbands with the acronym 'ÄúAPU'Äù visible for every little ESPN camera to see.
And viewers did see.
And they best not overlook those three letters. The organization preaches protection for college athletes in a variety of ways including benefits for concussions, better physical care, and, of course, compensation for players.
Two weeks after QB Kain Colter diced Syracuse through the air, he donned black tape on either wrist, with a white APU logo etched into each one. Georgia Tech QB Vad Lee, who the Orange plays in a few weeks, did the same. But has the movement slipped into the SU locker room?
For now, the answer is no. Tailback Jerome Smith told the Fizz that he wasn't even aware of the movement. See, the beauty of the NCPA is that it's not a union. Amateur athletes (and amateur anything, for that matter) can't unionize. It would be against NCAA policy. So joining this "movement," led by former UCLA football player Ramogi Huma, is the next best option. And NCAA officials should take serious notice. This is the first, and very minute (but extremely strong) message college athletes can take to promote that they need better benefits. The NCPA urges that players need compensation to play in the form of trust funds.
It'Äôs all about the athlete'Äôs value, and how these players push that limit. Kain Colter, for example, has tested that line. He'Äôs one of the most outspoken players in the country when it comes to the need for athletes to be paid. But no one around the 'Cuse is talking payments for its services.
Former Syracuse tailback Antwon Bailey could not remember one player during his time on the Hill that cared more about being paid compared to winning. 'ÄúAthletes, they'Äôre more aware of what'Äôs going on around them, opposed to the older guys, or even when I was in college. When I was there, it was all about changing the guard, turning the program around, so everything else was secondary," Bailey said.
It's no longer a matter of whether or not athletes will get paid. Right or wrong, it is irrelevant at this point. In some way, it might surely happen in college athletics. If and when dozens of the country's premier programs (such as the 72 current BCS programs) break away from the NCAA, there will be no more governing body to enforce the strict ban of payment to players. Athletes' value will skyrocket. Syracuse running back Prince-Tyson Gulley admitted to the Fizz, though, that he didn't think players would be able to handle such compensation.
Would athletes be reckless with their money? Would it be harmful rather than helpful to turn amateur athletics into a professional sector? Sooner or later, the college world will find out. And that day could be right around the corner.
Posted: Kevin Fitzgerald
(adsbygoogle = window.adsbygoogle || []).push({});