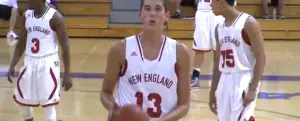 Lost in a disappointing weekend highlighted by Georgia Tech's spanking of SU football was the verbal commitment from yet another  basketball-playing Tyler.
Tyler Lydon, a 6'8" power forward from Pine Plains, NY, verbally committed to the Orange, making him the first commit in the 2015 class. Lydon attended Syracuse's Elite Camp at the end of August and made his decision via Twitter on Thursday, a day before Orange Madness at the Carrier Dome.
A 4-star recruit, Lydon is ranked #77 overall, according to Rivals. He is going into his first season at the New Hampton School in New Hampshire after reclassifying to the Class of 2015. The prep school move will¬†prove vital to Lydon'Äôs development, especially coming from a Section C school in New York State. Highly competitive players have come out of New Hampton recently, including Indiana'Äôs Noah Vonleh and Boston College'Äôs Olivier Hanlan. In fact, back in the '90s, former Syracuse great Lawrence Moten also attended the New Hampton School before leading the Orange.
Although he was expected to only get mid-major offers, Lydon's interest has steadily increased as he gained more exposure. Syracuse beat out Florida, Virginia, Notre Dame, Iowa, Vanderbilt, and many others for the native New Yorker. Lydon has said how he wants to compete against the best and there is no better slate of competition than the new and improved ACC.
Lydon's build and skill set is a little unorthodox for a power forward. Lydon decided to attend prep school not only for competitive reasons but to build muscle. Being a power forward with his frame is not going to cut it in the ACC; he is only 180 pounds. On a more positive note, Lydon has a great outside shot and is very comfortable behind the arc.
The 2015 basketball recruiting class could be a special one for SU. Syracuse is targeting Malachi Richardson, Thomas Bryant, Isaiah Briscoe, Derrick Jones, Cheick Diallo, in addition to others. All those players mentioned are 5-star recruits, according to ESPN. All of these players come from the NY/NJ/PA area, a strong region for Orange recruiting. In fact, Bryant is a local talent from Rochester and went to the same high school as freshman Chinonso Obokoh, who will redshirt this season. Bryant has since transferred to the popular basketball powerhouse Huntington Prep in West Virginia.
As if Syracuse's national brand was not enticing enough, a #7 preseason ranking after losing three players and the start of exciting ACC play should be very enticing to prospective players.
Posted by: Zephan Mayell
(adsbygoogle = window.adsbygoogle || []).push({});