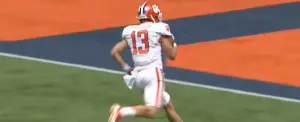 Syracuse loses 49-14 to #3 Clemson. Here's my knee-jerk reaction:
-Tajh Boyd and the Clemson offense is fantastic. The Tigers carved up the Syracuse secondary right from the opening drive. That's one of the best attacks in the country. If the Tigers beat Florida State they have a very real shot at the national championship game. SU's defense just doesn't have the talent to hang with athletes like that. But not many schools do. Clemson put up 624 yards, and averaged over 8 yards per play. Boyd threw for 455 yards and 5 TDs. The SU defense will have to play better than that for the rest of the ACC season. Florida State has the weapons to make it scary, but it's all about assignment football. Just make sure you take care of your assignment, and do your job. If SU does that it can hang with ACC teams like NC State, Wake, and Maryland. SU missed some big time assignments on Saturday.
-How about Scott Shafer lighting into Dabo Swinney? The Clemson coach already led 35-7 at the end of the first half and went for it on 4th down. Shafer was not amused. The ABC cameras caught him screaming, "F*&k you, Dabo! You mother*&ker!" The Tigers are in the national title hunt, but they'll have to leapfrog Oregon at some point to get there. Dabo may have wanted a flashy win to sway some voters later on in the season. I appreciate Shafer's intensity, although if you don't want the opposing coach to rub it in, then hold them to less than 35 first half points. No matter, it was the most entertaining part of the first half. I like that fight from Shafer.
-The Terrel Hunt applause will have to wait a week. After tremendous efforts against Wagner and Tulane he had an incredibly rough outing. He went just 8-for-24, for 52 yards and 3 INTs. He was also sacked four times. The Tigers are one of the fastest, and most talented teams SU will face all season. So Hunt needs to just move on and realize he matched up against a powerful team. Judging from his postgame comments, I think he will.
-The attendance was terrific. I was concerned earlier in the week that so many tickets were still available, but the crowd was announced at over 48,000. That's a tremendous showing by SU fans, and it was a flashback to the last time the Dome regularly rocked for football – the McNabb years. Hopefully the blowout loss doesn't turn off the fans thats showed up. The Dome is an incredible place to watch a football game when the place is filled. My senior year in '00, both Miami and Virginia Tech came up, and the atmosphere inside was electric. It was an unreal experience being under that roof those afternoons. Saturday gave us a reminder how good a packed Dome can be for football.
Posted: D.A.
(adsbygoogle = window.adsbygoogle || []).push({});