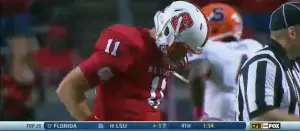 Syracuse beats NC State on the road 24-10 for its first ACC win. Here's my knee-jerk reaction:
-Huge effort by Scott Shafer's team. Going on the road anywhere in a new league can be daunting. The surroundings are new, the stage is bigger. But the Orange played like the better team on Saturday, which startlingly was reality. The Wolfpack might have more recent football success, but its three wins came against Richmond, Louisiana Tech and Central Michigan. Not that SU's Tulane and Wagner victories are monumental, but these were two resume-equal teams. SU went on the road and grabbed a big swing victory.
-The reason it's big is for bowl eligibility. The Fizz has broken down the math before. SU had to find a road win, and then take care of business with its three remaining home clashes (Wake, Pitt, BC). To nail down that road victory already means any other win away from the Carrier Dome is gravy. Not that SU should be content lying down the rest of the way on the road. Home wins against the Deacons, Panthers and Eagles are not guaranteed. But contests at Georgia Tech and Maryland are also winnable. The Orange will not face another ranked team except for FSU this season.
-Terrel Hunt now is now 3-1 by all measures as a starter. Drew Allen is 0-2. So who would you guess has thrown for more yards? Try Allen. After another mediocre performance through the air, Hunt has just 520 passing yards in four games. Allen has 572. Of course, in every other quantifiable measure Hunt is the better QB. Completion percentage, yards per attempt, TD-INT (7-3 vs. 2-7) and rating. But it's going to be hard to win games in this league with a signal caller throwing for less than 100 yards. Hunt's legs and penchant not to give the ball away made up for his lack of success passing.
-The rushing game was a monster Saturday, exactly what the strength of the team should be. SU ran for an insane 362 on the ground vs. NC State, which came in with a very stout rushing defense. Both Jerome Smith and Prince Tyson-Gulley ran for over 100 yards each and had 50-yard runs. The focus of the offense should always be the ground game, and continue to be for the next few seasons with George Morris and Devante McFarlane waiting in the wings. SU should once again brand itself as Running Back U. Brown, Little, Davis, Csonka, Morris. The time is right to keep playing that card in the recruiting game and on the field.
Posted: D.A.
(adsbygoogle = window.adsbygoogle || []).push({});