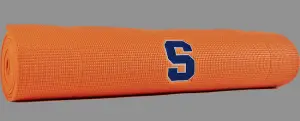 Think yoga is just for people who like to breathe in and out and contort themselves into crazy shapes?
Think yoga isn't a great workout that strengthens your muscles and allows them to relax and restore?
Think again.
There are lots of stereotypes about those who use yoga mats: stay-at-home moms in Lululemon, people who have traveled to India and wear pashminas, groups of college students dripping sweat in a room boiled to 95 degrees, or only the hyper-flexible. But athletes—and their trainers—have begun to embrace yoga and dynamic stretching after lots of physical activity to help repair muscles while strengthening them. Everyone from Arian Foster to your SU student athletes are posing atop a yoga mat.
So join the movement, and get a jump start—for free! Thank Cirrus Fitness, who have graciously provided a free yoga mat giveaway for those who want to represent Orange beyond well-worn hoodies and baseball hats.
Cirrus Fitness, the premier manufacturer of authentic collegiate and professional sports licensed fitness equipment, has launched the first-ever officially NCAA licensed set of fitness products with school-specific colors and high-quality embroidered logos on yoga mats, stability balls and other products… it's a must-have if you want to get healthy while representing Syracuse at the same time!
YOGA MAT

Stretch your pride further for your favorite school with the first ever officially licensed NCAA Exercise / Yoga mat by Cirrus Fitness. Available in over 100 NCAA affiliated teams, the Cirrus Fitness Exercise / Yoga mat features a custom embroidered school logo and authentic school colors. It is the only mat that is custom-branded for your school and designed for maximum performance. The cushioned, non-slip surface enables you to strengthen your core and endurance while maintaining flexibility.

The mat is a perfect gift for athletes, alumni, students and fans. Get your custom Cirrus Fitness NCAA Exercise / Yoga Mat and find out just how far you can stretch your school pride.
You've got to win it, though. So here's how.
Answer this: Rumor on Marshall Street is that Scott Shafer is looking for a legitimate wide receiver and Jim Boeheim may need some extra depth on the bench. They're sneaking around campus, hoping to find the diamond in the rough, and decide to walk in on your yoga session. They're super impressed with you and your yoga ability, and you'll be a two-sport athlete'Äînice. What pose did they find you in?¬†
Let us know'Äîbest answer wins an awesome SU yoga mat! And we won't judge you for carrying it around if it means getting a chance to play a few minutes.
(adsbygoogle = window.adsbygoogle || []).push({});