Follow The Fizz on Twitter for the latest SU basketball news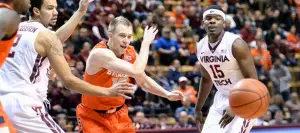 Blacksburg proved to be a small challenge for the no. 2 team in the land. Syracuse defeated Virginia Tech 72-52 on Tuesday night behind C.J. Fair's 17 points. Four players scored double-digit point totals for the Orange.
The Orange took control early at a quiet Cassell Coliseum. Jerami Grant had a double-double with 12 points and 10 rebounds. He also had two steals and an assist on the night. Trevor Cooney started out the game with a few buckets from behind the arc but only finished 3-of-8 from the three-point line. It has been a rough go since the Villanova game for Cooney, who has shot 7-of-25 since then from three-point land.
DaJuan Coleman came into the game for limited minutes at the end of the game while he recovers from knee soreness.
Floor general Tyler Ennis had a decent game, racking up 13 points and seven assists. Ennis also hit three big three-pointers as he works on his perimeter scoring. Although it did not pop out in the box score, Baye Moussa Keita also had a solid game with nine rebounds and two blocks. We saw how valuable a bench player like Keita was last March, so good play out of the senior is crucial as the Orange prepares to take on tougher ACC opponents.
The Orange prepares to take on North Carolina on Saturday. UNC is unranked after their road loss to Wake Forest. The Tar Heels are one of the biggest question marks in college basketball, beating Louisville, Michigan State and Kentucky, yet losing to Belmont, UAB, Texas and, most recently, Wake Forest. It will be interesting to see which Tar Heels team come out to play on Saturday.
Posted by: Zephan Mayell 
(adsbygoogle = window.adsbygoogle || []).push({});