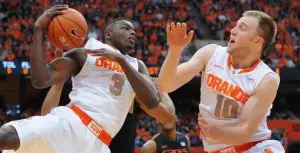 Jim Boeheim has a history of keeping his freshmen out of the starting lineup. 
Except for Tyler Ennis.
Ennis has not played like a freshman. Even in some mistakes or rough play, he has this team at 16-0, with some big wins against ranked teams and unranked challenges, such as the win over UNC.
After the game, Ennis talked about how big of a win it was especially against a program like UNC. This was a game Syracuse fans had circled on the calendar because it was powerhouse vs. powerhouse. Of course, UNC has struggled this season and didn't look like the team usually in the top 10 rankings.
Regardless, this was a huge win:
Ennis can perform under pressure.

The freshman scored 10 points and although he doesn't always put up lights-out numbers, he is productive and only helps his teammates play better. He looks more comfortable in ACC play.
Syracuse looks more like a championship contender.

Even though it's only been 16 games, these guys play well together. One of the issues heading into the season was who would assume leadership? Perhaps C.J. Fair, because he was the senior. But everyone on the team has displayed qualities of a leader. 
Syracuse can still win big without 27 points from Trevor Cooney.

He was absolutely dry. There is no question he has cooled down since conference play began. Teams aren't allowing him to have an open-look catch-and-shoot three from the wing. Cooney was 2-of-12 from three and 4-of-17 from the field. The redshirt sophomore finished with 10 points and even through his awful shooting day, the Orange still found a way to finish out on top. 
This is a confidence booster for the Orange. 
Now with a win against UNC under its belt, there is a good feeling knowing it can beat a team that has so much national attention. Boeheim has to feel comfortable knowing his team can win big in this league with a freshman point guard, and a 2-guard who shot 2-of-12 from behind the three-point line.
Posted by: Austin Pollack
(adsbygoogle = window.adsbygoogle || []).push({});