Follow The Fizz on Twitter for the latest SU football news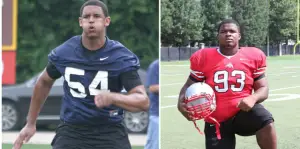 When recruiting battles heat up just a few weeks prior to National Signing Day, the conversation spotlights offensive playmakers. They are the guys who score touchdowns and make college programs the bucks by putting fans in the seats. Unfortunately, the players that do all the dirty work up front tend to go unnoticed.
Syracuse fans have to do a whole lot to their eye sight if they plan to avoid a pair of monster lineman recruits visiting campus this coming weekend. Class of 2014 products OL Denzel Ward and DL Zeek Rodney are scheduled to be up On the Hill this Friday.
The Chicago, IL giant Ward stands at an enormous 6'9" and 320 pounds with intriguing offers from SU as well as Texas Tech, South Florida, Nebraska and UCLA. Ward already endeavored a visit at USF back before the holidays, but has some lined up with the Cornhuskers and Bruins following his trip to Syracuse. As for Rodney, Boston College, Marshall and SU feature the offer sheet for the gritty South Carolina product. SU presents the only visit for Rodney in the near future. That possibly speaks to his strong relationship with Orange defensive line coach Tim Daoust.
The one who's kept both prospects in the loop about Syracuse is one of their hopeful peers, linebacker commit Zaire Franklin. The Philadelphia native Franklin tells The Fizz he's been in constant contact with his buddies Ward and Rodney. Franklin's recruitment effort sometimes flies under the radar, as AJ Long often steals that spotlight via Twitter.
Followers and commenters of The Fizz continuously remark about the need of linemen for the Orange next season.
Yes, you all have a very, legitimate point.
Let's start on the offensive side. Thankfully, veteran OT Sean Hickey has decided to stay with Syracuse for his senior year. After him, there's not much depth or promise as lines just tougher and more powerful year to year in the ACC, something SU will learn as it plays in the conference. It's ironic, given Hickey bulges out at 6'5", because he would have competition if Ward pledges Orange in February. How can you ignore Ward's size? He becomes an instant upgrade for the position as a whole and he lays a framework for the team's future along the O-Line.
Basically the same scenario on defense, as Syracuse lets go of senior stud Jay Bromley from the D-Line. We have to trust now that in his third season with SU, Tim Daoust can recruit just as well as anyone on this staff. He may not be as convincing or bold as Scott Shafer or George McDonald, but Daoust competes with Clark "The General" Lea on the recruiting front.
Daoust wants Rodney to not only strengthen the defensive line, but to perhaps prove size doesn'Äôt always tell the story. And to see Syracuse scouting down in South Carolina demonstrates¬†the Sunshine State isn'Äôt the only place it'Äôs dominating. Rodney fills out at just 6'Äô1'Äù, 260 lbs. but has the toughness Daoust looks for. There are no eye-popping offers on Zeek'Äôs end, but Syracuse sees the intangibles in him. If Rodney does commit, he better watch out for¬†the original 'ÄúZeek": Isaiah Johnson, who also owns that nickname.
You can't help but love the craftiness of the 2014 class. It's easy to fall in love with the stud quarterbacks or wide receivers on board, a la AJ Long and Alin Edouard or KJ Williams and Naesean Howard. But when there are needs at hand you can't just overlook them. The pending additions of both Ward and Rodney do more than just satisfy needs. Both tackles provide college-made durability for the ACC.
Posted by: Brendan Glasheen 
(adsbygoogle = window.adsbygoogle || []).push({});