Follow The Fizz on Twitter for the latest SU football news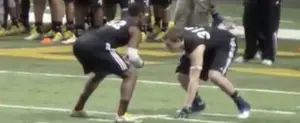 New York State hasn't very kind to Syracuse in recent years when it comes down to plucking top notch in-state talent. Defensive prizes like Ebenezer Ogundeko and Thomas Holley ring a bell.  Even though Scott Shafer and company have transitioned into a new form of recruiting, 2015 recruit Qaadir Sheppard, outside linebacker, is high on SU's radar. The Bronx, NY native visited Syracuse over the weekend and called the trip "great," according to CuseNation.com
The 6'3", 225-pounder has a handful of northeast schools after his services. Boston College, New Jersey rival Rutgers and UMass have all offered Sheppard. His Rutgers visit and offer was just about a month ago. Sheppard told NJ.com what Scarlet Knights' head coach Kyle Flood admired of him:
"Coach Flood said he likes how I'm able to rush the passer, and he said I can also drop back in coverage. And I think I'm pretty good at running routes when I'm at tight end, catching the ball."
That's the other catch. Literally. Sheppard plays some tight end as well at Iona Prep High School in New Rochelle, NY. He brings versatility to the table which the coaching staff always admires. Dual-ability players excite Shafer on the defensive end and George McDonald on the offensive side of the ball.
Watch Qaadir Sheppard's defensive and offensive highlights here.
Sheppard owns raw talent getting to the outside and dismantling the quarterback. He's quick and can dash even at 225 pounds. Offensively Sheppard can go up and get it in the back of the end zone. That's an extremely valuable weapon for QBs in the red-zone. The versatility factors makes him an obvious standout.
Although OLB isn't necessarily a position of need with four new LBs coming in, Sheppard still catches Syracuse's attention uniquely. Being from the Bronx provides an instant connection. Yes, SU has been strongly emphasizing going after the best talent available rather than focusing on owning New York City, but this is a case of the staff being true to itself. Sheppard has a ton of upside that fits the overall mold.
NJ.com's Todderick Hunt also reported last month Sheppard has no idea when he plans to make a decision or narrow a list down. The report also says he will be attending Rutgers' spring practices in the coming weeks. He's not Ebo or Holley, but Sheppard's a stud from the Bronx.
Wouldn't it be nice to lock a NYC guy up to break in the 2015 class? Sounds good to me.
Posted by: Brendan Glasheen
(adsbygoogle = window.adsbygoogle || []).push({});