Follow The Fizz on Twitter for the latest SU lacrosse news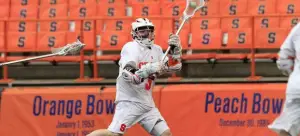 Midfielder Billy Ward scored a thunderous goal in the second overtime to give no. 5 Syracuse its second-ever ACC win against no. 7 UNC. Postgame, Coach John Desko called the Orange's tightest game of the year "a great game for college lacrosse."
After a shaky 0-3 start in ACC conference play, Syracuse is peaking at the right time. Desko's team is now 8-3 and has won two straight conference matches. Most importantly, this win means the team has booked its place in the ACC tournament, which will take place later this month.
Syracuse was down 3-0 early in this game thanks to goals from UNC attackers Chad Tutton, Joey Sankey and Pat Foster. In the second quarter the Orange failed to score. It was the team's first scoreless quarter all year and at halftime Syracuse faced a 3-6 deficit. In the SU locker room at the half, Ward fired up his teammates:
"Let's play like we've been playing in practice…After Duke everyone started questioning out heart and I told [my teammates] this team has more heart than any team I've been on. It's just a matter of getting things right. Let's play how we've been playing and be awesome."
According to Desko, the rant had a few more expletives.
Ward's words certainly fired up his team and it showed on the field. The Orange scored two quick goals to start the second half to cut UNC's lead to just one. From that point on it was an even battle between the two lacrosse superpowers. The team's stayed tied or within one or two goals of each other the rest of the way. With 3:10 to go in regulation, Jimmy Bitter scored his fourth goal of the night for the Tar Heels to put them up 10-9. After a UNC stalling call, the Orange was able to get possession back with 27 ticks left on the clock. Coming out of a timeout, senior Kevin Rice scored his 22nd goal of the year with eight seconds left to send the game to overtime.
In the first overtime, each team had chances to win the game but did not take them. In the second overtime, Chris Daddio won the opening faceoff for the Orange and Desko promptly called a timeout. Whatever was said in Syracuse's huddle worked because Ward scored the game winner right afterwards.
After the game, Ward talked about the lead-up to his deciding goal:
"Randy [Staats] I saw had the ball and I know he loves going up the right side and he started doing that…I saw my guy go and I knew Randy would find me and he did and I just let it fly."
Ward finished with three goals, tying his mark for most goals in a game this season.
Finally, the Orange looked like a different team tonight from the faceoff X. Daddio looked comfortable and won 18 of 26 faceoffs for SU. He has come a long way from winning only winning five faceoffs against Maryland earlier this season.
The Orange now travels to Geneva, New York to play Hobart next Saturday in the team's regular-season finale before going to Chester, Pennsylvania for the ACC tournament the following week.
Posted by: Connor Morrissette 
(adsbygoogle = window.adsbygoogle || []).push({});