Follow The Fizz on Twitter for the latest SU basketball news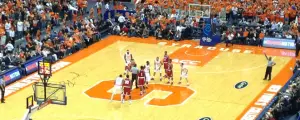 It looks like 2014-2015 will be another exciting year for season ticket holders, as the Atlantic Coast Conference officially released the conference home and away opponents for the next two years.
Next season, the Orange will play home-and-home series with Boston College, Pittsburgh, Duke and Virginia Tech.  In addition, Syracuse will also host Florida State, Miami, Wake Forest, Virginia and Louisville.  Therefore, the Orange will play Georgia Tech, Clemson, North Carolina, NC State, and Notre Dame exclusively on the road.
Obviously, the three high-profile home games that stand out for the Orange are the contests against Duke, ACC-champion Virginia, and Louisville.
The Duke game will be either the third or fourth meeting between the teams as ACC foes, depending on scheduling.  Fans were treated to a spectacular overtime thriller in the Dome last season, and a tight game ending in a questionable call at Cameron.  2014-2015 looks to provide even more drama, as two top-twenty recruiting classes will battle.  The Orange has Chris McCullough and Kaleb Joseph coming in, while Duke boasts four 5-star recruits and the top overall recruit, Jahlil Okafor.
Virginia, the eventual ACC champs, blew out the Orange in their only meeting last year.  Syracuse will have a chance for revenge, however, when the Cavaliers visit the Carrier Dome in an ACC matchup for the first time.
But, of course, all eyes will be on Syracuse's first matchup with Louisville in the ACC.  Louisville was part of the American Athletic Conference (AAC) last season, but has come to the ACC to make the conference even stronger.  The last time these two teams met was in the final Big East Tournament before conference realignment.  In the final game, Louisville beat the Orange 78-61 en route to a national championship.  The Orange and the Cardinals split their regular-season games, with the Orange beating then-number-one Louisville on the road.
Syracuse will also be participating in the 2K Sports Classic at Madison Square Garden in the non-conference portion of their schedule.  The other four "anchor" schools are California, Iowa, and Texas—so Syracuse should face some good competition before ACC play begins.
The Orange will also play Villanova on the road.  They beat the Wildcats in the Dome early last season.
Posted by: Jason Weingold
(adsbygoogle = window.adsbygoogle || []).push({});