Follow The Fizz on Twitter for the latest SU football news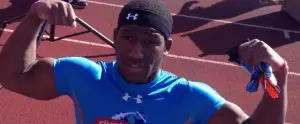 Just how shy is Shyheim Cullen? Based on The Fizz's conversation with the Lowell, Massachusetts linebacker, he's quite the opposite. Cullen is very not shy about his confidence that Syracuse, the lone FBS School to offer him, leads his recruiting services.
Watch Cullen's 2013 season highlights here.
The six-foot, 215-pound Cullen has other East Coast D-I schools interested in him, including Boston College, UConn, UMass, Temple, Rutgers, New Hampshire, Maine and Rhode Island. Defensive coordinator Chuck Bullough and linebackers coach Clark Lea contacted Cullen back on April 30th to extend the Lowell HS junior an offer. Bullough likes what he sees, according to Shy:
"He said I definitely fit their defense. They saw that I could make some amazing plays, and that's something they like at Cuse."
Cullen shined in the state of Massachusetts. He was one of eight juniors selected to ESPN Boston's annual All-State Team. He helped the Red Raiders reach the semifinals of the MIAA Division 1 North tournament. Having played middle linebacker primarily last year, Cullen often blazed past the line of scrimmage record 12 sacks along with 52 tackles:
"I have the ability to break towards the linemen, especially playing the middle linebacker position as of now in high school."
He should likely see time on the outside during his senior stint. Under his HSHC John Florence, Shy does his best inside. As for his potential college head coach Scott Shafer, Cullen has heard nothing but positives:
"What he did last year and where he brought his team, I just know he is a very great coach and he definitely likes players with the ability I have. They were definitely altogether and on board (to offer)."
With a visit to the SU campus planned for June 21st, Cullen can finally get a taste of Syracuse in person. His discussions with Bullough and Lea are obviously very encouraging, but he's really excited to meet Shafer. Interest soaring in from other local programs doesn't faze Cullen:
"Syracuse is number one right now. I was working my way to just try and get an offer, then to hear from Syracuse, never mind the offer, was crazy and I liked it. All I've been thinking about is Syracuse and I imagine myself there. As of right now, talking with my parents, I'm pretty confident in Syracuse."
Cullen is on record Boston College sits behind the Orange. Only time will tell if he receives more FBS offers. Certainly a rising ACC school such as SU offering could easily bolster Shy's value. His mind is set on delivering a state championship at Lowell High this fall. Beyond that, however, Cullen's interest in Syracuse is his focus, which could increase to a possible commitment very soon.
Posted by: Brendan Glasheen 
(adsbygoogle = window.adsbygoogle || []).push({});