Follow The Fizz on Twitter for the latest SU lacrosse news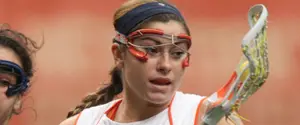 The first half played out like an aggressive tango. Maryland went on a 5-0 scoring spree in the first five minutes of the half before Syracuse got on the board. And while the Terps went through a 16:06 scoring drought, the Orange had a huge hole to climb out of, and were never able to climb out to a lead. The first half concluded with Maryland leading the Orange 9-6.
"They came out and dominated," said head coach Gary Gait. "You know if you can do it again you hope you can get a different start but that was the way it went today."
That offensive tango continued into the second half, but the dance was much uglier for the Orange. Syracuse found no offensive rhythm and rarely held the ball. Though Murray scored within two minutes to open the second half and cut the lead 9-8, the Terrapins went on a scoring terror, answering immediately after Murray's goal to bring it to 10-7 and then 13-7 before Kailah Kempney scored goal eight for Syracuse. Maryland added two more goals to bring the score 15-8 before Webster notched her second goal, closing the gap 15-9. What followed was an incredible effort by the Orange to close the gap 15-12 on a 4-0 run over the Terrapins, but the Orange doomed themselves with three turnovers in as many minutes.
"Could've, would've, should've, if we had more time," said Gait. And the Orange simply ran out of it.
The girls wanted it. It would have been historic; the first-ever title to come to a women's sport in Syracuse history. Coached under the legendary Gary Gait. Led by Tewaaraton finalists Alyssa Murray and Kayla Treanor. But Maryland's offensive firepower was too much for the Orange, and the Terrapins claimed its 11th NCAA title. Maryland won all three matchups against Syracuse this year. You've got to imagine Syracuse will be out for revenge next season.
Murray, Treanor and Natalie Glanell were named to the All-Tournament Team. Following the loss, it's unlikely, but still a possibility, that Treanor or Murray wins the Tewaaraton. But the Orange fought hard, and will lose some great seniors next year. But a loaded roster, and Gary Gait at the helm, will keep them in contention. With the toughest schedule in the country, and an earned no. 2 seed, the Orange should be nothing but proud of their season this year.
"This is a heck of a season. We made history at Syracuse," said Murray. "We definitely left our mark as a class. We definitely showed the underclassmen what the Syracuse way is."
Posted by: Jillian Thaw
(adsbygoogle = window.adsbygoogle || []).push({});