Follow the Fizz on Twitter for the latest SU football news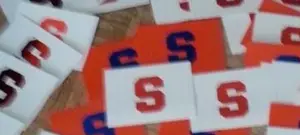 Seth Goldberg takes you through the week in Syracuse sports once again. First, he looks at the hypocrisy Syracuse entered when it sent 64 letters to one recruit in one day this week. Could it just be a case of keeping up with the Joneses? Next, he looks at SU on the field. This week Goldberg looks at the Linebackers, arguably the best unit on the Syracuse team. Also in the football segment, Seth talks about the new progress made on the new football practice facility. Next, Seth talks some SU basketball: how recruits did in the Mary Kline Classic last weekend, what a no. 1 recruiting class means for the Orange, and why Jim Boeheim was never going to leave before the 2015-2016 season anyway. As always, Seth ends by looking at some of your feedback from the week.
Listen to Orange Fizz Radio every Saturday morning from 9am-10am on the Score 1260. Check 
orangefizz.podbean.com
 for new FizzCasts and past episodes of Orange Fizz Radio.
Posted by: Seth Goldberg
(adsbygoogle = window.adsbygoogle || []).push({});