Follow the Fizz on Twitter for the latest SU basketball news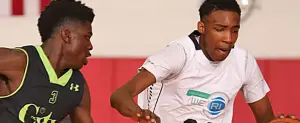 Despite already having four verbal commits for the class of 2015, Jim Boeheim and his recruiting staff are still trying to convince Derrick Jones to come play for the Orange.
While it was widely known that Syracuse had pursued Jones before receiving their fourth verbal from big man Moustapha Diagne, fans and reporters alike certainly were surprised when it was announced that the Orange were still in the running for Jones' commitment.  Before Diagne's commitment, Syracuse was the favorite to land the small forward.
The 6'6" player out of Pennsylvania has already visited the Syracuse campus before, and is being pursued furiously by schools like Kansas, Louisville, Indiana and Florida, all of which he will visit over the remainder of the summer.
On Friday night, Jones dropped a game-high 24 points in the Reebok Classic Breakout.
Jones is ranked as the 27th best player in ESPN's rankings for the class of 2015 and could add to the current no. 1 recruiting class in the nation.  It could definitely go down as one of the greatest Syracuse recruiting classes of all time, although it is too early to tell, of course.
The basketball team is currently out of scholarships for 2015.  This factors in the graduation of Rakeem Christmas and bench player Albert Nassar.  However, if any of the Orange players were to declare for the NBA after next season, it would open up a scholarship for another player in 2015.  Many think that Chris McCullough has the talent to be Syracuse's second straight "one and done" player.  Highly touted recruit Kaleb Joseph could also make the jump when he is relied upon heavily in the upcoming year, or second-year Tyler Roberson, who has the talent, could also explode onto the scene with consistent playing time.
Jones' coach said that he will probably come and see the Syracuse campus again before he makes his decision, but that it is not as important as seeing other schools because he has already been Up on the Hill many times.  He participated in Syracuse's Elite Camp.
If Jones chooses to play somewhere else, Syracuse also has its eyes on another top target, Thomas Bryant from nearby Rochester, NY.  The lanky 6'9" big man has been connected to the Orange for a long time.  Bryant's top three include the Orange, Ohio State and Kansas.
Posted by: Jason Weingold
(adsbygoogle = window.adsbygoogle || []).push({});