Follow the Fizz on Twitter for the latest SU basketball news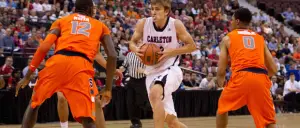 The Syracuse athletics department announced yesterday that the Orange will play two exhibition games in November before they start the 2014-2015 campaign.
One of the opponents is quite familiar. The Orange will host Carleton in the Carrier Dome onNovember 2. If you need a refresher, Carleton is the same team who gave the Orange a run for its money last summer during Syracuse's tour of Canada. The Ravens were up by 15 in the second half before the Orange mounted a comeback to avoid a near disaster.
Carleton, however, is exactly the type of team Syracuse needs to play against before the season starts. The Ravens are considered one of the best, if not the best, team in Canada and have won 10 of the past 12 national titles in the Canadian Interuniversity Sport.
Last year, the Orange had a new point guard in Tyler Ennis and had a few question marks with certain players. The Canada tour and especially the Carleton game allowed the Orange players to build chemistry and deliver under pressure.
The same will be true this year as new point guard Kaleb Joseph, along with incoming freshman Chris McCullough will have big shoes to fill with the departures of Ennis, Jerami Grant, C.J. Fair and Baye Moussa Keita. Playing above-average competition before the regular season starts can be just as beneficial to Joseph as it was to Ennis. It also gives an opportunity to players who did not see too much time last year such as Tyler Roberson, Ron Patterson and B.J. Johnson.
Syracuse will also face Adrian College, a Division III program from Michigan. The Bulldogs struggled last season, compiling a horrid record of 5-20.
With many question marks facing the Orange next season, Boeheim and company hope to solve some of them before the regular season starts.
(adsbygoogle = window.adsbygoogle || []).push({});