Follow the Fizz on Twitter for the latest SU basketball news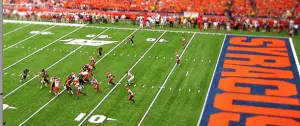 Earlier in the month, Syracuse surprisingly broke off its relationship with IMG. The marketing agency of course owns the radio rights for men's basketball, football and lacrosse, along with the coaches' shows on the radio throughout the different seasons. But it also sells every advertisement in the Dome, from the Nike signs over unused basketball seats to the Time Warner logo on Scott Shafer's headset. IMG even pays part of the salaries of Shafer, Boeheim and Doc Gross.
It seems like an odd and abrupt time for Syracuse to end the agreement with IMG. However, when looking at some of the rights agreements around the country, SU could be making a lot more money than they would have from IMG. The contract between SU and IMG was private, so we do not know exactly how much the university had been getting paid. But, it was likely negotiated before the boom in multi-media rights. Kentucky just recently signed away its media rights, for $210 million over 15 years, or about $14 million a year. 
Now, Syracuse is in position to make similar money. With a basketball program that plays at as high a level as any other in the nation, a football program certainly on the rise, and a lacrosse program among the best in the country, SU should be able to rival some of the highest media rights in the nation.
Just five weeks out from the start of football season, what problems does the current situation present. First, the football games are broadcast on "The IMG Syracuse Football Radio Network." This would mean the status of radio broadcasts are up in the air. Second, IMG reportedly paid part of the salaries of Shafer, Boeheim, and Doc Gross. If they truly are paying Shafer, why would Shafer begin to coach without getting paid his full salary? Lastly, the Dome and football program would be devoid of advertising. No "Key Bank" third down, or kiss cam sponsored by TOPS. There would be no advertising in the Dome because that also is all set up through IMG.
It would be nearly impossible to imagine that Syracuse could go into a football or basketball season without a media rights deal. However, at the same time, it would be very difficult for another marketing agency to swoop in now and get the radio and advertising deals done before the season starts in about 5 weeks. With that said, I would guess the Orange sign a new, larger contract with IMG.
What does that mean for SU? Well, Syracuse would all of a sudden have more money to play with. More money to use to put back into the program, put towards the new football practice facility, or a possible new stadium. The money will also go towards funding other athletic programs that do not make money, such as field hockey or tennis.
Posted by: Seth Goldberg
(adsbygoogle = window.adsbygoogle || []).push({});