Follow the Fizz on Twitter for the latest SU basketball news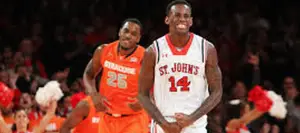 Over the weekend, Syracuse officially announced two more opponents for the upcoming basketball season.  The Orange will continue their renewal of former conference-rivals when it hosts the St. John's Red Storm in the Dome on Dec. 6.  The team also announced a non-conference matchup with Holy Cross that will take place in November.
Syracuse and St. Johns have been long-time rivals dating back to 1912, when Syracuase won the first matchup between the two teams.  The Orange currently leads all-time 51-37, with their most recent victory coming last season at Madison Square Garden.  In front of a very mixed crowd, the Orange staved off a late rally by St. John's to improve to 10-0 on the season.
The two teams met in Big East conference play 58 times, and the Orange won 38 of the matchups.  Interestingly enough, Syracuse is 15-1 vs. the Red Storm since 2001 and has won nine straight against the team.
It is advantageous for the Orange to uphold their rivalry with St. John's so the team can play in Madison Square Garden.  Often recognized as the second home court for coach Boeheim's team, it gives the heavy alumni presence in New York City a chance to see the Orange play.  This is why the team will also be playing in the 2K Sports Classic, a tournament hosted at the Garden in the beginning of the season.  They have a chance to face Texas, Iowa, or Cal in the event.
In addition to the Red Storm, Syracuse will also face Villanova, another former Big East rival, and has planned a series with hated rival Georgetown starting in two years.  Other announced non-conference games for 2014 include Loyola, Michigan and Holy Cross on Nov. 28.
The Orange's all-time series with Holy Cross is closer than one may think; Syracuse leads only 13-12.  The teams last squared off in 2006, where the Orange was tested in a 72-64 win.  Syracuse has won the last five games in the head-to-head series after losing five straight.
Syracuse is looking to pad its non-conference schedule with rather easy opponents, knowing that it has an extremely tough ACC schedule waiting in 2015.  The Orange will have to face Duke twice, North Carolina on the road, and will see Louisville and Virginia at the Dome.  All conference games will be a test for the Orange, however, as the upcoming season remains a huge question mark for a young team and its passionate fans.
Posted by: Jason Weingold
(adsbygoogle = window.adsbygoogle || []).push({});