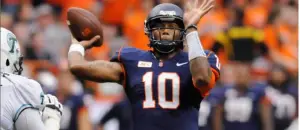 Seth Goldberg takes you through the week in Syracuse sports. We start off by talking football recruiting, including the possible addition of 4-star linebacker Anthony McKee. Seth also talks about the direction of the SU football program, and why it is really heading the right way. Next, Seth is joined by Damon Amendolara. Seth and DA look at some of the Orange on watch lists this fall, and some expectations for the upcoming season. Including some big expectations on Terrel Hunt after he participated in the Manning Passing Academy. After that, Seth hands it off to Connor Morrissette who spoke to SU commit Brandon Ginnetti, a two sport athlete in high school. Ginnetti played both football and baseball and was recruited by schools for both sports. After the interview, Seth wonders whether Ginnetti could also be one of the first SU baseball players. As always, we end the show with Fizz Feedback where we hear from you, the readers and listeners.
Check out our site 
orangefizz.net
 for posts everyday. Give us a follow on Twitter, @OrangeFizz. And search 
orangefizz.podbean.com
 for past episodes of Orange Fizz Radio and FizzCasts with recruits.
Posted by: Seth Goldberg
(adsbygoogle = window.adsbygoogle || []).push({});