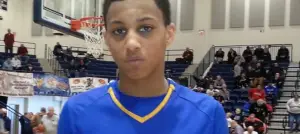 Follow the Fizz on Twitter for the latest SU basketball news
Well, it finally happened.  Syracuse earned a commitment from a player that will be attending the school after I graduate, and man do I feel old!  On Friday, Matthew Moyer announced his commitment to play for Jim Boeheim and the Syracuse Orange.
Moyer, a 6'8" rising junior ,was offered a scholarship by coach Boeheim on Wednesday, and accepted just two days later.  According to the forward, he knew that he was a prototypical Syracuse player with his extraordinary length and giant 7'2" wingspan.  A prototype for the 2-3 zone, Moyer is looking forward to working with both Boeheim and Gerry McNamara.
The youngster participated in Syracuse'Äôs Elite Camp last week and he was wowed by the Carmelo K. Anthony Basketball Center, as well as the other facilities that Syracuse has to offer.¬† But basketball isn't the only thing Moyer hopes to work hard at: Moyer wants to become a cardiologist and he even plays the violin.
Even though he is only halfway through high school, the rising prospect already had offers from 25 schools including elite programs like Ohio State, Wisconsin, Florida, and Butler.  Because Moyer is from Ohio, it is a huge win for the Syracuse recruiting staff who pulled him from elite midwestern basketball schools.
It's pretty hard to imagine what the Orange will look like come 2016, as nearly all of the current roster will have either graduated or moved onto the NBA.  Trevor Cooney, Mike Gbinije, and DaJuan Coleman's eligibility will expire prior to 2016, and players who haven't even stepped on the court for the Orange could potentially already enter or have entered the NBA Draft.  Kaleb Joseph and Chris McCullough will probably both declare for the draft before Moyer even puts on a Syracuse uniform.  The three remaining freshmen from last season (Ron Patterson, BJ Johnson and Tyler Roberson) will be entering their senior years, assuming none of them declare before 2016.  Redshirt Chinoso Obokoh will be a junior athletically, and the current number one recruiting class in the nation for 2015 will be entering their second year of eligibility.
Moyer was ranked as the 90th overall player in the class of 2016 by Rivals, but is allegedly sliding up rankings rapidly.  It's a firm foundation in 2016 for a program boasting the nation's best recruiting class in 2015.
Posted by: Jason Weingold
(adsbygoogle = window.adsbygoogle || []).push({});