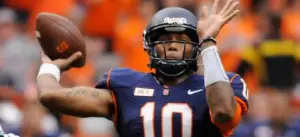 Follow the Fizz on Twitter for the latest SU football news
Breaking down the offense by unit, how does the Orange stand to in comparison to last season?
Quarterback: This year's quarterback situation is obviously better than last season's. Terrel Hunt comes into this year knowing he is the starter and will build on a solid redshirt sophomore season. Expect Hunt's passing numbers to vastly improve from last year. 
Running backs: Jerome Smith is a big loss because of his success in the red zone. The trio of Prince-Tyson Gulley, Devante McFarlane and George Morris II should be able to replace Smith in terms of yards, but the team will struggle to replace Smith's touchdown numbers. Adonis Ameen-Moore could be a player the Orange looks to in short-yardage and goal-line situations.
Offensive line: The only starter SU must replace from last year's effective offensive line unit is center Macky MacPherson. Jon Miller won the job over Rob Trudo in the spring and the coaches seem happy with his performances so far in practice. Lead by Sean Hickey, this unit will once again play at a high level this season.
Wide receivers and tight ends: This group has a ton of depth and has the potential to be the strong point of the offense this season. Ashton Broyld, Jarod West and Brisley Estime all return from impact seasons. Sean Avant, Adrian Flemming, and Alvin Cornelius have all improved in the offseason and should also be reliable options for Hunt. Freshman duo Steve Ishmael and Jamal Custis have impressed the coaches in camp as well. The news that tight end Josh Paris will miss four weeks after knee surgery is a blow, but Kendall Moore and true freshman Tyler Provo will be just fine against Villanova and Central Michigan. The knock on SU's offense last season was that Hunt was only effective making short throws. A more experienced Hunt and a more experienced receiving corps should have more success with intermediate and long passes this year.
(adsbygoogle = window.adsbygoogle || []).push({});