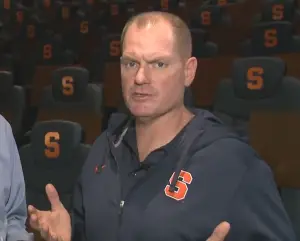 At some point Syracuse needs to win this game, not just hang close. The Orange has battled USC and Penn State relatively competitively the last few years at MetLife. We talk every year about how many eyeballs it attracts, how many recruits it could affect. But to really build a program, it'll take winning one of these bad boys.
I had Scott Shafer on my CBS Sports Radio show Thursday morning (heard on the Score 1260 in Syracuse, and on affiliates from Buffalo to Albany). He embraced the challenge of a top-10 opponent.
"Within the next couple years, we want to get to that point where we're vying for a spot in that top 20, where we're fighting to be relevant again as Syracuse should be. So an opportunity to play a top-10 team in Notre Dame is exactly what we look for, hope for and what you think about as a youngster growing up. (We want) to play against Notre Dame and some of the prestigious programs and take Syracuse into the Meadowlands and just give them hell."
Does it help that the Orange has played in this game the last few years?
"I always think to some degree having a familiarity with where you're playing (is a good thing. What the locker room's like, the bus trip from the hotel to the stadium – I think there's a sense of comfort when you know where you're going to be and you can truly visualize it ahead of time. A been-there, done-that type situation is never a bad thing from your players. I know they're anxious to get back on the field."
Syracuse trailed just 13-10 entering the fourth quarter and pulled within 23-17 with less than seven minutes to go against Penn State. Notre Dame has scored at least 30 points in all three of its wins and has the third-best scoring defense (10.3 points per game) in America. Shafer knows this is the kind of game that could put his program back on the map. He also was fairly critical of where this program was when Groobers left.
"We want to get to the point where we're relevant again. We inherited a program with coach (Doug) Marrone, and we had a lot of rebuilding to do. Infrastructure – from academics to how we were recruiting – just every element that you could imagine. And then we got the thing turned to where you could say we were respectable again: getting to bowl games, winning three bowl games in four years. Last year, I thought the kids did a great (job) with a lot of transitioning. And I do think it's that time."
I'm a little surprised Shafer still thinks it's a couple of years before they're talking top 20, since a win over Maryland would've definitely put attention on the Orange. Then a victory over the Irish would have easily put SU in the top 25. But I assume he meant regularly, not just a one time thing.
Either way, a big upset by Syracuse Saturday night would change a lot for this program.
Posted: D.A.
(adsbygoogle = window.adsbygoogle || []).push({});