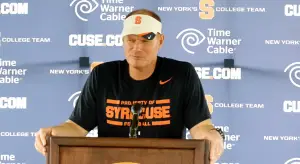 Orange fans going crazy after a one-point win over Villanova is a little bit unnecessary. One game at this point in the season does not determine how the rest of the season will go.
Syracuse's night certainly did not go the way most had planned, and that includes Wildcats head coach Andy Talley. His main goal was to leave Central New York with a healthy team. Not only did he get that, but he exited with a team that nearly upset an FBS opponent.
The Villanova game was bizarre and completely out of the norm. First and foremost, Terrel Hunt did not look at all like last year's Texas Bowl MVP and the guy who clinched bowl eligibility in the last six seconds of the regular season. He threw a punch, and it sent him for the early shower. Austin Wilson came in and looked like a guy who was not a backup. He was 11-for-17 passing and threw for just under 90 yards in spot duty.
There's good and bad. Although Syracuse got the win, the defense and offense were both sloppy. It is not time to panic in Syracuse. Even though the passing game looked non-existent for the Orange, it is still early. Had Hunt not gotten ejected, he may have exploded in the second half. Last year's opener against Penn State felt the same. Syracuse did not look very strong on either side of the ball, and really struggled offensively. But SU rebounded to win 7 games, and head into the offseason confident.
A bye week gives the team extra time to figure out what happened. The defense had not allowed a 100-yard rusher in a game since the Pinstripe Bowl game against West Virginia two years back. In comes Johnny Robertson, a FCS quarterback, and rushes for triple digits. The Orange D has plenty of time to get that fixed.
Scott Shafer's staff seemed to be able to fix issues last year when they popped up. They'll have to do the same over the next week. An easy win over Central Michigan would show Orange Nation there is no reason for panic.
Posted: Austin Pollack
(adsbygoogle = window.adsbygoogle || []).push({});