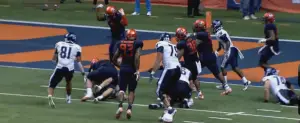 Syracuse's defense prided itself last season on not allowing a single 100-yard rusher. Friday night, Villanova's quarterback John Robertson made sure the 2014 Orange would not continue the trend. He finished with 115 yards on 34 carries. SU's front four had no answer for the Wildcats elusive QB. The majority of talk following this game surrounded Terrel Hunt's ejection; the incident overshadowed the poor performance from SU's defensive line.
The Orange started the game with Robert Welsh and Micah Robinson at the defensive end spots with Eric Crume and Ron Thompson in the middle. This front four unit was able to get to Robertson, but struggled to finish pl (only Robinson had relative success; he recorded 2.5 tackles for loss). The missed tackles and lack of speed from this group was very disheartening. Robertson would repeatedly be pressured and flushed out of the pocket but then gain yardage with his feet when he should have been sacked.
Over the last month defensive coordinator Chuck Bullough told the media not a single player had impressed him enough to earn the second starting defensive tackle position and it showed against Villanova. After Thompson, Marcus Coleman, Isaiah Johnson and Ryan Sloan (in the goal line package) were all given opportunities but failed to slow the Wildcats rushing attack. Friday night's game served as a rude awakening to the SU coaching staff that Jay Bromley is no longer on this team. Someone new must step up.
Struggling to defend the run against Villanova is not a good sign for a team that faces off against Notre Dame, Florida State and Clemson later this season. While the front 4 eventually did save the game in stopping the Wildcats two-point conversion for the win, it was a rare stop for this group. This level of performance is unacceptable against an FCS team, especially when Scott Shafer's goal for this team is 8 wins.
Posted: Connor Morrissette 
(adsbygoogle = window.adsbygoogle || []).push({});