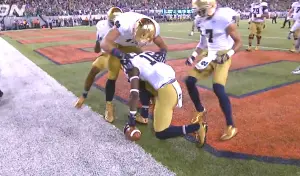 There'Äôs no doubt Everett Golson put on a show in Notre Dame's 31-15 win against Syracuse Saturday night at MetLife Stadium . He lit it up going 32 for 39, including a stretch of 25 straight completions, for 362 yards along with four touchdown passes. But, Orange Defensive Coordinator Chuck Bullough and Head CoachScott Shafer had some answers.
Syracuse forced Notre Dame's starting quarterback to turn the football over for the first time this season. Golson'Äôs cutesy 11 combined touchdowns to zero interceptions stat line prior to the game was diminished thanks to SU'Äôs stout defensive effort. The Orange picked up five turnovers, three of which Golson was involved in.
Where's the love for SU's D? The Orange's iffy 2-2 start is headlined by criticism towards George McDonald's up-tempo offense, which just isn't working. This week's Fizz Five focuses on Syracuse's defensive priorities heading into this Friday's matchup with Louisville.

Brandon Reddish gives the secondary life
Raise your hand if you saw an Irish fumble coming on its first drive offensively. Great play by Reddish to open up the game. Even though Terrel Hunt and the offense did not convert on the TO, Reddish did jump on the fumble which allowed Syracuse to dissipate into the primetime frenzy. The contest was scoreless through one quarter which helped keep Orange fans dialed into the action. The senior from Brooklyn also added a nifty interception. The Fizz viewed the secondary as an X-factor heading into Notre Dame. If Reddish can keep this up he's no question the DBs anchor.
Dyshawn Davis and Durrell Eskridge out of their funk
Davis, another senior, had the chance to shine in his hometown. An 11-tackle performance along with a forced fumble puts Dyshawn back on the map. Getting benched in the 4th quarter against Villanova did not show his true colors. David played as a true freshman back in 2011. He'Äôs an important piece that needs to play at high level every game for SU to win ball games. Much of the same can be said for Durell Eskridge. The Miami junior recorded a pick-six to keep the Orange within two scores. It was the first pick-six by an Orange defender since Keon Lyn ran back an interception 31 yards for a score at Temple during the 2012 season. Eskridge even got hurt in the game, managed to return and then make a big play. He was out "throwing the punches," as he likes to call it.
The botched spike call should be a lesson for all officials
Stepping aside from individual performances, the Golson sort-of sloppy, odd spike attempt was a huge blow for Syracuse. The official cannot just blow the whistle because of indecision. That's a Julian Whigham dart to the house to make it a one score game heading into halftime. A circumstance like this really frustrates Shafer because it was a great play that did not end great. Referees might as well add "The Golson Spike" to their cheat sheets when officiating games. Many on Twitter agreed it was something they had never seen before. Bottom line: don't blow the whistle for the sake of blowing it.
Shafer/Bullough play-calling seems to go unnoticed
Hate to keep picking on George McDonald but it's not like he's the only guy who calls a play or two for Syracuse. However, Bullough and Shafer did an excellent job of rattling Golson at the start. The early turnovers fed Syracuse the fire it needed. It also helps when Shafer is going bananas in excitement on the sideline when a turnover got forced. Bullough's schemes on defense have not received much attention. Yes, Notre Dame's talent was able to catch up and eventually outplay the Orange D, but Bullough did not blink and kept at it. He should have fun calling sets this Friday due to Louisville's shaky offense.
Syracuse should ruin Louisville's depleted offensive line
The UofL is experiencing a lot of "new" this season. Former Head Coach¬†Charlie Strong is down in Texas with the Longhorns, while QB sensation Teddy Bridgewater is banged up in the NFL with the Minnesota Vikings. Also, insert the ACC slate for the Cardinals as they experience its first year in a new conference. Louisville'Äôs QB situation is tricky with redshirt sophomore Will Gardner sidelined with a left knee injury, and true freshman Reggie Bonnafon has a ton of support from the fan base. Jim Greer of the Courier Journal is the Cards beat writer and he told The Fizz Louisville'Äôs biggest concern is at offensive line. The depth there has deteriorated. With all that said, first-year head coach Bobby Petrino has his Cards out to a 4 'Äì 1 start. Syracuse'Äôs defense looks hungrier than ever. Don'Äôt be shocked if SU takes advantage of a weak O-Line and wins the turnover battle by a considerable margin once again this week.
Posted:  Brendan Glasheen
(adsbygoogle = window.adsbygoogle || []).push({});