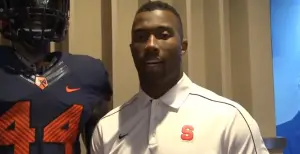 The Orange looked underprepared, unmotivated, and at times terrible, against Villanova. If Wildcats kicker Chris Gough had knocked down either a 34-yard field goal or a 25-yarder the Orange would have had one of the most embarrassing losses in recent memory. We know the ugliness by now: Terrel Hunt threw a bonehead punch. Syracuse struggled to stop quarterback John Robertson, and could not score points when it mattered. It allowed an inferior team to hang around and almost pull off the upset.
But despite these inefficiencies, there were a few encouraging phases of SU's game. With the exception of Villanova's 67-yard punt return touchdown (yes, that's a big exception), the Orange's special teams unit largely impressed. True freshman Ervin Phillips returned three kicks for 76 yards in his debut, and seems to have locked down that role for Syracuse. Riley Dixon had two punts over 50 yards and executed the game winning fake-field goal flawlessly. Ryan Norton made both of his field goal attempts for SU. Norton has been inconsistent in the past, but hit a chip shot and a 38-yarder to keep Syracuse close with the Wildcats.
On defense, linebacker Cam Lynch. Lynch made a whopping fifteen tackles, had a sack and regularly bailed out his defensive line when they lost containment. Many have pegged Dyshawn Davis as Syracuse's elite linebacker this year, but Lynch stole the show and Davis struggled to make an impact.
Jarrod West developed a decent chemistry with Austin Wilson in the second half. This offseason West talked about how he and Hunt spent a lot of time together practicing, but when Hunt was ejected West seemed comfortable with Wilson as well. The senior receiver made two key 17-yard receptions, one in the third quarter and one in overtime that lead to scoring plays for Syracuse.
It's easy to focus on the negatives in a game as ugly as last Friday. But there were some solid individual efforts as well. The Orange will just need far more of them as the competition gets tougher.
Posted: Connor Morrissette
(adsbygoogle = window.adsbygoogle || []).push({});