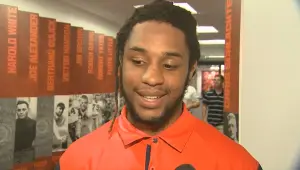 Who will take over the bulk of the Syracuse carries? Jerome Smith had his breakout season last year and then declared for the NFL Draft. Smith, one of the captains on a Syracuse squad that won the Texas Bowl, rushed for just over 900 yards and found the end zone 12 times. Smith's sophomore season he gained over 1,100 yards, but only scored three touchdowns. He found a way to pick up tough yards and find pay dirt last year, making it hard to fill a huge hole.
Scott Shafer had to find a new leading man. He elected to go with his number two back from a year ago, Prince-Tyson Gulley. Gulley has been a key part of the Orange running attack for the past two seasons. He is a speedster with quickfeet, something Smith didn't have. Romey was big and strong. He could fight for extra yards and was a perfect short yardage back because of his power. Gulley has the speed element.
Third down were brutal last week for the Orange. SU was just 5-for-14 against Nova, and part of the struggle was the lack of a physical back who can push for extra yards.
So how will Shafer dole out the carries moving forward? Here's a look at his options:
Prince-Tyson Gulley: He has the speed. If he breaks out into the open field, forget about it. He broke free for a 65-yard touchdown last week. The offensive line often needs to create a perfect hole for him to break a big gain. He has quick feet, so setting him up for a screen pass could help too.
George Morris II: The younger version of PTG. They're both small backs but when they break free, the defense might as well just watch them go into the end zone. PTG has a bit more mass and the build to be a more bruising back. Morris will use his quickness to make defenders miss.
Adonis Ameen-Moore: The senior running back has size, but is stuck behind the other two. Ameen-Moore may get some looks at third down, The coaches may evaluate from there how many touches he should get. A solid backup if there's an injury to one of the other backs.
The season is in its early stages, and may take some time for everything to sort out. But the offense needs to create big plays and points. The running backs can once again be the strength of the attack, so now it's time for Shafer to start deciding who's going to get the rock.
Posted: Austin Pollack
(adsbygoogle = window.adsbygoogle || []).push({});