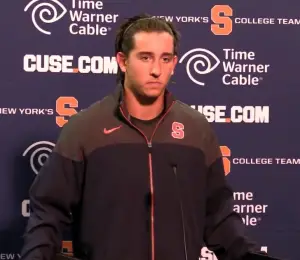 Ever since Terrel Hunt threw the punch that ejected him from Friday's win over Villanova, there has been chatter of him possibly getting benched for Austin Wilson (including here on the Fizz). Sorry to those clamoring for Wilson, but that is simply not the answer right now.
Should Hunt have known better and controlled himself? Absolutely. Was Hunt lighting it up against Villanova before he was ejected? Not exactly. But make no mistake, Hunt is the starting quarterback and should be when the Orange take the field next weekend against Central Michigan.
Hunt was chosen to be the starter largely because of his experience last year. He showed growth, most notably culminating in the Texas Bowl where Hunt won the MVP. But this year, Hunt was supposed to show continued growth. Just because he didn't play well against Villanova doesn't mean he won't still show he is a better player. Also, one instance of "poor judgment," doesn't make him a bad person or necessarily a bad leader.
Obviously Coach Shafer, SU, and the ACC are not worried about Hunt's actions, as was evidenced by a lack of additional discipline. Was it a big deal that Hunt was ejected? Sure. Should it be something that carries over to next week? No, it is over and done with.
On to Wilson, he is simply not ready to lead this team. Even after the disappointing win against Villanova, if the Orange has its sights set on winning seven or eight games, (as some have predicted), Wilson is not the quarterback to take SU there this year.
First, one may point to Wilson's great play when he entered the game. Realistically, he played well the first two drives and then sputtered after the touchdown. Second, he isn't nearly the running threat that Hunt is. This offense was constructed with the idea that Hunt would be the starter, so there is a little more movement out of the quarterback and planned runs. Remember how out of place Drew Allen looked in the pistol the first few weeks last year? Or how Hunt didn't look quite right fitting into the offense built around Allen right after he took over? It would take an adjustment.
Lastly, Wilson still has work to do passing. Sitting in the endzone Friday night, the offense, led by Wilson came right at me in the third quarter. It gave me a good angle to see where passes were related to the receiver. There were some that were really off target. Passes went to the wrong shoulder, or on the outside which should have been down the hash marks. These are things to work on, and maybe some of them come with timing with the receivers, but the throws need to be better. At least one of them could have been a touchdown down the middle.
This is not to say Wilson cannot be the starter here next year or thereafter, but this year it doesn't look like it is in the cards. Hunt needs to get back out on the field, and lead the Syracuse offense. The most important drive will be the first one next week at Central Michigan. If Hunt and the Orange charge down field for a touchdown, most of the talk of Wilson playing will go away.
Posted: Seth Goldberg
(adsbygoogle = window.adsbygoogle || []).push({});