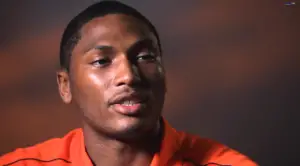 As Syracuse gets set to take on a surprisingly tough Central Michigan squad on the road, here's three bold predictions:
1) Terrel Hunt Throws for Over 180 Yards
Hunt only accomplished this feat four times last season, but after last week's ejection the redshirt junior has a major point to prove. Last week Central Michigan allowed 204 passing yards against Purdue, the team picked to finish last in the Big 10 by every analyst at CBS Sports. CMU's defense will surely try to get under Hunt's skin once again, but he knows now what is at stake and will come back from his ejection with a strong performance in the air.  He has assured Orange fans he will not lose his cool again. Look for him to have a solid day through the air.
2) Central Michigan RB Thomas Rawls Fails to Reach 100 Yards
This season the Chippewa senior has rushed for 121 yards against Chattanooga, and 155 yards against Purdue (plus three touchdowns). Scott Shafer compared the 5'10″, 217-pound power rusher to Adonis Ameen-Moore this week. Rawls' 100-yard streak will end today because Syracuse can handle gritty and strong backs. The Orange struggled with Villanova quarterback John Robertson because of his speed and elusiveness. Rawls beats opponents with muscle, which is something the Orange can stop. Wayne Williams will make his debut and most likely play alongside Eric Crume to add size and strength to the interior of the defensive line. These two players will be responsible for making sure Rawls does not have a big day.
3) Steve Ishmael Catches at least Five Passes
True freshman Steve Ishmael jumped ahead of senior receiver Jarrod West in this weeks Syracuse depth chart. West led the Orange with five receptions for 59 yards against Villanova so don't expect his playing time to be too limited. That said, the SU coaching staff clearly likes what they saw from Ishmael's debut and wants him targeted more often. Hunt should have a good day in the passing game, and he'll look to get Ishmael involved early in today's game.
Posted: Connor Morrissette
(adsbygoogle = window.adsbygoogle || []).push({});