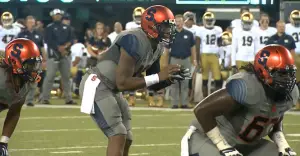 Right now is a tough time to be a Syracuse football fan.
The Orange is 2-2 and currently riding a two-game losing streak heading into the game against Louisville.
This is by far the toughest stretch of the season for Syracuse. The Orange lost to No. 8 Notre Dame on Saturday at MetLife Stadium – a game that was in prime time. Now, Syracuse faces a 4-1 Louisville squad in a nationally televised game on ESPN.
Of course taking it just one step at a time, this team has much to show against the Cardinals. The biggest point is to get a win. SU started 2-0 with wins against Villanova and Central Michigan and has lost two straight.
Here are some major observations from the last week that could put SU in some danger against Louisville.
1.) Lack of a running game
Terrel Hunt cannot only pass the ball. Believe it or not, this is not a problem of the offensive line. The biggest issue is Syracuse does not have a running back who is truly ready to be the top man at the collegiate level. Prince-Tyson Gulley is only an OK back at this point. Right now, Hunt is essentially the quarterback as well as the running back. He even leads SU in rushing yards. Trying to do two jobs at once nearly cost him against Notre Dame when he was bothered by a hip injury. He is going to play against Louisville, but it goes to show that doing too much can cause some black and blue marks.
2.) Terrel Hunt's inability to pass
He can physically throw the ball, but where does it end up? It usually ends up on the turf. The red zone is a huge issue for Hunt right now. He cannot seem to find the comfort zone to make accurate and complete passes in the most important part of the field. It's interceptions galore for Hunt when the SU offense is close to the goal line. This is one of the important reasons for having a good, strong running back who can push for yardage and inch closer to the goal line. Louisville scores more than 30 points per game on average. Wake Forest quarterback John Wolford threw three interceptions last weekend against the Cardinals, so if the quarterback is going to make mistakes, the Louisville defense will capitalize. Syracuse already saw this against Maryland when, not necessarily did the Terrapins win the game, but more so the Orange lost. Accurate and complete passes in the red zone is the key to the Syracuse offense.
Sloppy play has hurt the Orange badly this year and in a tough stretch against a strong team like the Cardinals, now is the time to clean things up. This is another game on the national stage where the world will be watching and Syracuse does not want to be embarrassed again like it was against Notre Dame.
Posted:  Austin Pollack
(adsbygoogle = window.adsbygoogle || []).push({});