It has been a frustrating season for B.J. Johnson.
Johnson scored a career-high 19 points in the season opener against Kennesaw State and then came close to that on Wednesday night in a 70-54 win over Boston College at Conte Forum.
He had no choice but to step up for the Orange on a night when Rakeem Christmas failed to score in double digits for just the second time this season, the first since he scored eight against Cal back on Nov. 20.
Johnson was 4-10 from deep, but nobody can complain when this was a team win rather than all scoring around Michael Gbinije, who finished with 21, and Trevor Cooney, who dropped 15 points.
With Syracuse not playing in the postseason, this team's goal is to get the players more and more ready for a strong return in 2015-16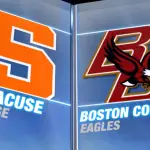 with one of the top recruiting classes in Jim Boeheim's history at Syracuse.
This was a win more about more than just Johnson stepping up, but about the entire team finding ways to help. Too many times all the scoring is among Cooney, Gbinije, and Christmas. Tonight, Kaleb Joseph took shots from 10-12 feet versus dishing it to someone else along the perimeter. That is a sign the freshman is going to be more comfortable going to the hoop in the near future.
Next game for Syracuse is against Duke. This win against the Eagles was one of lessons. Syracuse learned how to spread the ball and get everyone involved. That is essential against a tough team like Duke in a dangerous atmosphere.
Posted: Austin Pollack
(adsbygoogle = window.adsbygoogle || []).push({});