The highlight of Syracuse's 2016 recruiting class up to this point has been offense, mainly Robert Washington. But over the past two days, Syracuse has gotten commitments from two big defensive targets: Jamal Holloway and Monquavion Brinson. Let's get to know the newest Orangemen.
Jamal Holloway (Defensive end; 6'3″ 215 lbs.; @Malmoney_2016 on Twitter)
Jamal Holloway is a defensive end from Camden High School in New Jersey with only two years of high school football under his belt. He'll be coming to the Hill alongside teammate DyMelle Parker, an outside linebacker who commited to Syracuse a month ago. In his junior year, Holloway recorded 37 tackles for loss and 6 sacks in 10 games, according to MaxPreps.com. He committed to the Orange yesterday by tweeting this: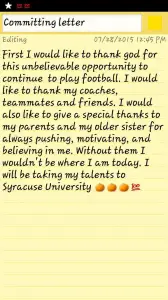 Holloway steps into what is an already crowded defensive line. The Orange had more commits on the lines last year than at any other position last. He will have 6 returning defensive ends (plus any who join him the 2016 class) to compete with for snaps in 2016, 4 of which will be only a year ahead of him. While Holloway is about the same height as the rest of Scott Shafer's defensive ends, his weight will be a problem. All of his competition has 20-40 pounds on him as of right now, according to the team roster on Cuse.com.
Why does Holloway only have two years of football experience? He was busy playing basketball. A 3-year varsity player at Camden, the forward averaged 16.3 points and 12.7 rebounds per game. In a Syracuse.com article yesterday, Holloway said he'd even be interested in walking onto Jim Boeheim's squad. Try hard…
Monquavion Brinson (Cornerback; 5'11" 167 lbs.; @Rello__4 on Twitter)
What does the name Monquavion have to offer Syarcuse fans (other than an impressive 74 points in Scrabble)? MaxPreps says Brinson had 45 tackles last season to go with two interceptions and two fumble recoveries. He falls into a situation similar to Holloway, starting with the fact that he made his decision public via tweet: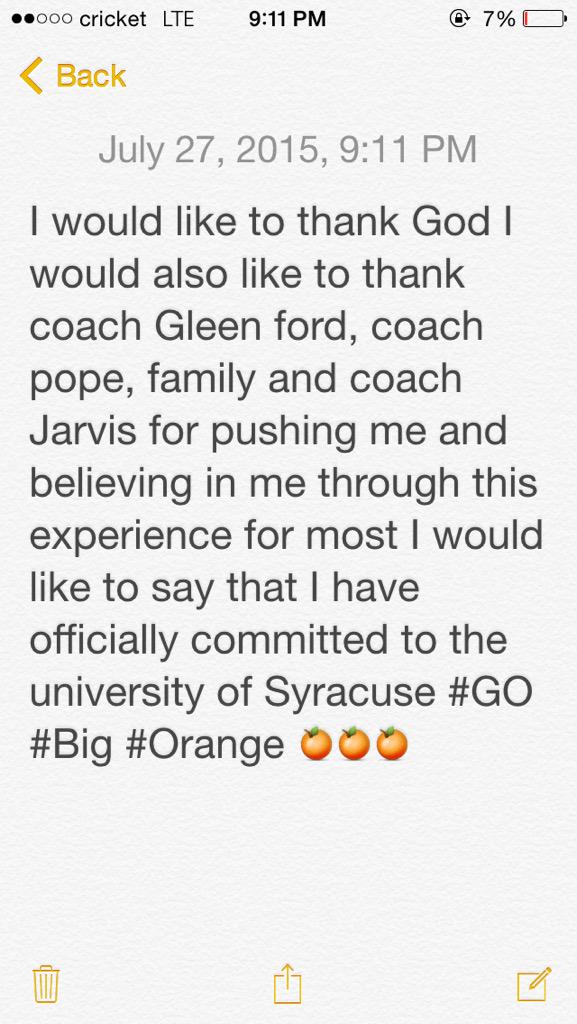 Also like Holloway, Brinson will be undersized at an overcrowded position. Size doesn't carry as much weight at the cornerback position (pun very much intended), but being the smallest is rarely an advantage. Brinson would be the lightest cornerback on Syracuse's roster right now. Being smaller does get you speed though, and Brinson runs a 4.66 40-yard dash, according to 247Sports.com.
Unfortunately, Monquavion does not play basketball. However, if you land on Triple Word Score he gets you 222 points, which in my mind is just as impressive.
Posted: Nathan Dickinson
(adsbygoogle = window.adsbygoogle || []).push({});