For Michael Gbinije, low expectations have become the norm. When he transferred from Duke to Syracuse in 2013, nobody expected the man who scored 1.7 points per game as a Blue Devil to contribute for the Orange. When his junior year came around, nobody expected him to learn a new position and become Syracuse's starting point guard/leading scorer. Now that his college days are over, nobody expects him to make any noise in the NBA as a 24-year-old second-round draft pick. But Michael Gbinije has beeen winning uphill battles for years, which is part of the reason why you should expect him to win this one.
The NBA isn't forgiving, of course, and Michael Gbinije is still a long way from making the Pistons' roster. He still has to guarantee a contract for himself. First round picks get guaranteed contracts, but anyone drafted in the second round has to earn his money in the summer league, etc. But there are a lot of things working for the now former Syracuse point guard.
Gbinije wants to play for the Pistons (obviously), but it looks like the Pistons want Gbinije, too. This tweet from drafft night proves that: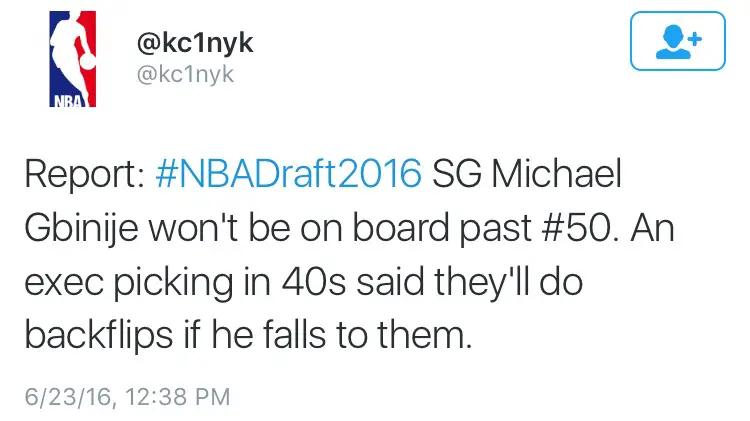 So unless every other team in the 40s who picked before the Pistons forgot how much they wanted Gbinije, that team was Detroit.
Why else should the Pistons want Gbinije on the roster? Well, why did Syracuse fans fall in love with him? He's a consistent scorer, and was really the only one Syracuse had last season. In a year where Trevor Cooney and Malachi Richardson were trying to find their shots throughout the season, Gbinije was the only constant; and outside of his natural position at that.
The Pistons could use some of that consistency at the shooting guard/small forward positions (where Gbinije is supposed to play, if you had forgotten). Kentavious Caldwell-Pope was the only reliable wing Detroit had last season, averaging 14.5 points per game. Stanley Johnson – a rookie last year – played in 3 games and averaged 8.1 points, so Gbinije will start out behind him as well. The other two players Detroit had at those spots, Darrun Hillard and Reggie Bullock, played 38 and 37 games respectively, and neither averaged more than four points. Jodie Meeks was traded to the Magic earlier this week for a 2019 second-round pick, so that's one less player for Gbinije to compete with.
Maybe Michael Gbinije doesn't start out the season in Detroit. He's still coming into this league at 24, so he'll have to start producing sooner than your average draft pick to hold a career in this league. But even if he starts out in Grand Rapids with the Detroit's D-League team, the Pistons want him to be successful with them and he will get a shot in the NBA if he can be the consistent player he was at Syracuse.
Posted: Nathan Dickinson
(adsbygoogle = window.adsbygoogle || []).push({});