Virginia Tech received a nice boost in the latest rankings. The Hokies jumped to 17 in the latest AP Poll after a 34-3 trouncing of previously 17th ranked North Carolina. Virginia Tech enters the Carrier Dome this weekend riding a three-game winning streak and have outscored its opponents 137-20 in the process. The Hokies are the third team the Orange has faced that has appeared in the Top 25 this season. This comes largely thanks to a high powered offense and stingy defense.
Offensively, the Hokies average 410 yards and nearly 40 points per game which is a huge reason why they are out to a 4-1 start. They do this with a run-heavy scheme with the ground game being called upon 65 percent of the time and racking up nearly 200 yards per game. Quarterback Jerod Evans is another dual threat signal caller who is very polished as a passer and explosive as a runner. Evans has only thrown one interception all season to give him a 15 to 1 touchdown to interception ratio. Evans likes to spread the ball around (the Hokies have six guys with multiple touchdown catches) and one of the guys he targets for scores is fullback/tight end Sam Rogers. The Hokies like to run a play action pass with Rogers running up the seam. Here's a couple examples of the Evans to Rogers (#45) connection, half of which have resulted in touchdowns.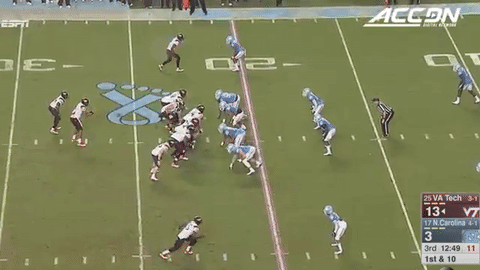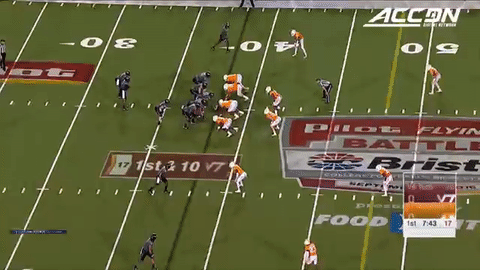 If there is one achilles heel to the Virginia Tech offense, it's their alarmingly high fumble count. The Hokies have coughed it up 17 times this season with 11 of those being pounced on by the other team. The Orange can take advantage of this because their defense has forced 14 fumbles, however it has not been able to capitalize by only recovering three.
On the other side of the ball, Virginia Tech boasts the second ranked passing defense by allowing just 132 yards per game. That's supplemented by seven interceptions, which ranks 18th in the nation. But turnovers aren't the only thing that makes the Hokies defense great. Opposing teams convert on just 19 percent of third down tries. That figure ranks second in the country. This poses problems for Syracuse who is coming off a game where it succeeded on just 5 of 16 third downs. In 10 of those 16 attempts, the Orange needed at least eight yards. SU won't be able to get away with having that volume of third and longs if it wants to have a chance this Saturday.
(adsbygoogle = window.adsbygoogle || []).push({});