Wake Forest enters Saturday's contest against the Orange having already surpassed their 2015 win total. The Demon Deacons come in fresh off its first loss of the season against North Carolina State. Wake Forest has not won a game by more than 10 points against an FBS opponent. The Demon Deacons have cut it close against poor teams this season (albeit, Duke and Indiana have both picked up signature wins this season) and have a record that, like Notre Dame, doesn't match their talent level. Unlike the Irish, the Deacons win total masks Wake Forest as a team that's not as good as their 4-1 record indicates.
Offensively, the Demon Deacons like to use complex blocking schemes in their running game that the Orange could be slow to react on. Wake Forest likes to kick their blockers out of their natural spots all the way to the other side of the line to hit pursuing linebackers. Watch this play from the game against Delaware. Ryan Anderson (#70) moves from his right tackle position all the way to the left hash to make a block.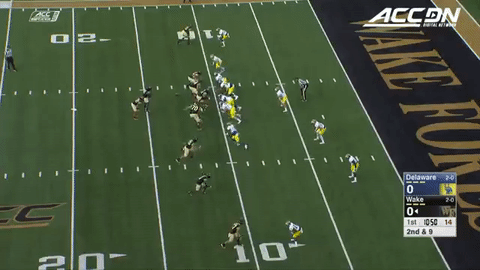 On this play, Nathan Gilliam (#71) drags all the way from the left tackle spot to make a block outside the right hash marks, but the play is cut short after Kendall Hinton hurts himself on a cut.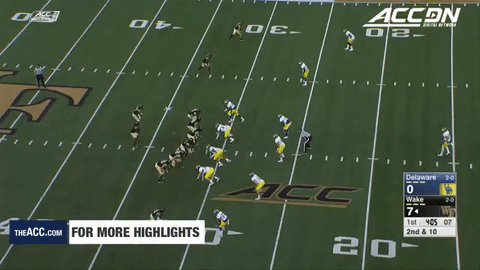 Finally, in this one, the right guard and tight end sandwich the right tackle and both kick out from their spots to make blocks at the left hash while the tackle stays put.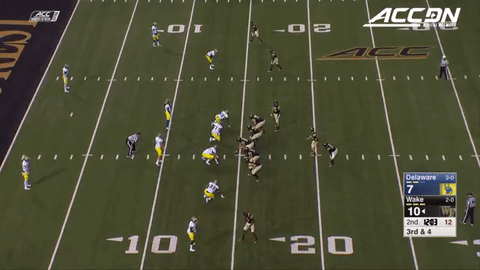 Syracuse likely won't have to worry as much with Hinton likely to be sidelined. The Orange is preparing to face a less elusive quarterback in John Wolford. Walford threw for 373 yards against SU last season, but also had three picks and negative 21 rushing yards.
Defensively, Wake Forest has allowed seven touchdowns through the air, which is a bit high given that the team has faced low power offenses. This could open up the floodgates for a big day for the Eric Dungey to Amba Etta-Tawo connection.
Vegas says the Demon Deacons are field goal favorites, but the Orange impressed in its road debut against UConn and could be looking at another win away from the Carrier Dome.
(adsbygoogle = window.adsbygoogle || []).push({});