Put a bow on year one of the Dino Babers' era. The first year coach finished his inaugural campaign with a 4-8 record that was capped off with a record setting 76-61 loss to Pittsburgh.
While Saturday's loss officially removes SU from bowl contention, the season was not a total wash. In fact, this was a year that had a lot of positives, despite the poor record. There were ups a la beating then #17 Virginia Tech and Amba Etta-Tawo's Biletnikoff-worthy season. And there were downs, such as any time the Orange faced a Heisman candidate (some worse than others).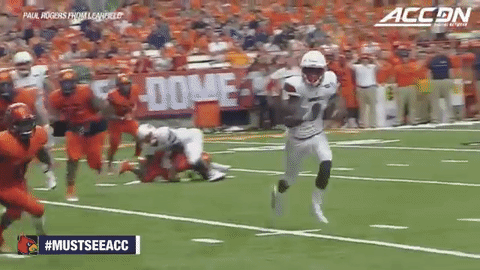 Let's face it, this was a building year. The fact that Syracuse was even in bowl contention pins the team ahead of schedule in what Babers wants to accomplish. It was a tough schedule for SU and that showed in its final record. Once he begins to get players from his recruiting classes, the high speed offense will come to form. Looking at the Pitt game, the Orange put up 40 points in the second half, but the defense could not slow down the Panthers offense. We probably have not seen the last 60+ point offensive outburst from a Babers' offense. This is just the beginning of what he wants to put together. One of Babers' biggest knocks has been his inability to make in-game adjustments, but he certainly made some coming out of the half last game. Saturday's game was a sign of things to come.
Defensively, you can't blame Dino. With countless injuries in the secondary, it was a next man up mentality throughout the season. But that mindset can only go so far for a depleted unit that is still relatively young. We know Babers loves his offense, but he needs to be mindful of the defense if Syracuse is going to truly become an elite program. There is youthful talent are a nice building blocks to start in the front seven, but if Babers can add quality pieces in the secondary, the Orange can be elevated to a bowl team in no time.
(adsbygoogle = window.adsbygoogle || []).push({});