Another week and another Heisman candidate that Syracuse is tasked with stopping. The Orange travels to Clemson to take on the second ranked Tigers this weekend. Last year's game was much closer than expected, but Clemson's performance against SU proved to be a fluke as the Tigers ended up in the national championship game.
Clemson boasts one of the top quarterbacks in the nation in Deshaun Watson, who spearheads a very potent offense. The Tigers come in with the 30th best offense in the nation, but that trails Syracuse's 25th ranked unit. Watson is a very efficient passer, connecting on 63.5 percent of his passes. He also likes to spread the ball around as six different Tiger receivers have multiple touchdown receptions. However, the quarterback has made his fair share of mistakes with 10 interceptions on the year. The Orange needs to pressure Watson and flush him out of the pocket and force pressured throws. Aside from Watson, Clemson relies on its running back Wayne Gallman who has scored seven times this season.
Defensively, the Tigers front seven is elite. Clemson is tied for the second most sacks with 31, which will put the banged up Syracuse offensive line to the test. The Tigers have picked off 12 passes, good for eighth in the nation. However, the Clemson secondary likes to gamble by playing shallow and can be exploited down the field. Many of the Tigers picks are a result of underthrown balls and superb athletes. Here are a couple of examples starting with this game against Florida State.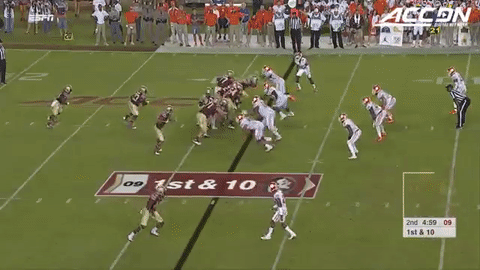 Here it happens again against Georgia Tech with the running back shorting the throw down field.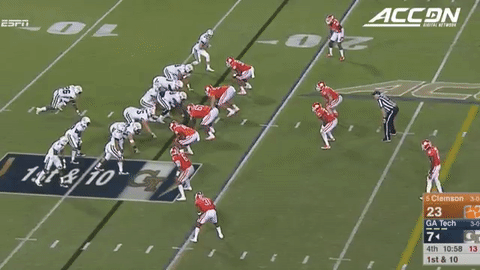 And finally, the defensive line gets pressure on Auburn's quarterback and forces an underthrown ball which the Clemson secondary takes the other way.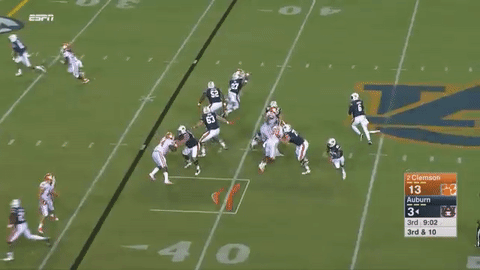 What this means for Syracuse is that Eric Dungey can't undercut his receivers, which he did a lot in the beginning of the season, but was not hurt by it as much as he could have been. As of late, Dungey has done a good job of not underthrowing his downfield passes and often times overshoots them. If Dungey can connect on some downfield throws and can stay composed despite the likely pressure from Clemson's front seven, the Orange can give the Tigers a run for their money.
(adsbygoogle = window.adsbygoogle || []).push({});