Last night's loss to Virginia Tech provided few bright spots.
The Orange shot under 30 percent from three for the fourth time this season, turned the ball over nearly twice as many times as the Hokies and lost by double digits despite winning the rebounding battle.
However, Taurean Thompson played extended minutes due to his continued offensive success and Tyler Roberson's foul trouble. In 32 minutes, Thompson posted 18 points and eight rebounds to go along with three blocks.
We have heard Jim Boeheim bash Thompson's defense all season, but the freshman has improved slightly as evidenced by the three rejections. However, blocks do not totally excuse Thompson from some of his other defensive lapses.
Here, Thompson is not aware that there is a guy on the baseline and allows an easy layup while forcing Roberson to drift from his spot on the floor and pick up his second foul of the half.
One of the biggest risks of playing zone is the inability to rebound since players are not matched up. Thompson does not even try to find a guy to box out and allows Chris Clarke to get a putback dunk.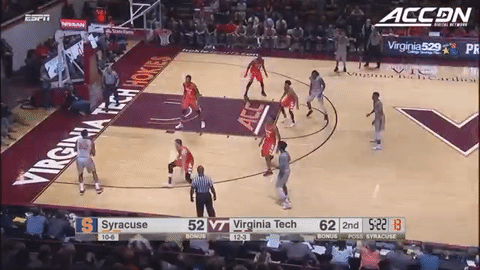 In games where Thompson plays more than 25 minutes, the Orange allows 85.6 points per game and is 0-3. The defense clearly struggles with his presence, but his offensive game can be too essential for Syracuse to lose that he must play that volume of minutes. Thompson is third on the team in games with double digit points (9), trailing Tyler Lydon (10) and Andrew White (15).
With Roberson's resurgence and Boeheim's tightening of the rotation that emphasizes defense, it will be tough to find Thompson more than 25 minutes per game. As much as you can applaud Thompson's offense, Roberson has been extremely efficient offensively in conference play, shooting 17-23 from the field. Thompson and Roberson are also tied in points in ACC play (38) despite the freshman attempting seven more shots. But the factor that will dictate playing time is defense. Advantage Roberson. Boeheim has praised the senior as the team's best defensive forward.
Situationally, Thompson should have played more than 30 minutes against the Hokies because of the struggling offense and Roberson's foul trouble. But until he improves defensively, Thompson should not be exceeding 25 minutes on the floor.
(adsbygoogle = window.adsbygoogle || []).push({});