Remember when the Orange was fourth in the ACC standings and looking at a double bye in the conference tournament? That was fun. After last night's loss to Georgia Tech, Syracuse dropped to eighth in conference and sits dangerously on the bubble. Let's dissect the good, bad and the ugly from last night's Syracuse loss.
The Good: Rebounding
Surprisingly, the Orange outrebounded a good team on the glass. The Yellow Jackets are tied for fifth in the ACC in rebounds, yet Syracuse won the battle of the boards 41-36. Along with that, SU had a great showing on the offensive glass with 19 offensive rebounds, which led to 17 second chance points. The Orange's frontcourt was phenomenal on the glass, spearheaded by Tyler Lydon and Taurean Thompson who corralled 15 and 12 rebounds respectively. In a game that had a lot of bad, there was a positive here.
The Bad: Three Point Shooting
Shooting under 30 percent from deep is not going to cut it for a team whose offensive brand is built from deep. The Orange is 1-8 when it shoots below 30 percent from deep, with the lone win coming at home against Boston College. Sometimes it simply isn't your night, and that was the case for every player who launched one from deep. John Gillon went 1-of-7, Lydon was 0-of-2 and Andrew White went 4-of-12. It happens, but it can't happen down the stretch if SU wants to keep its tournament hopes alive and well.
The Ugly: Interior Defense
Where do you even begin here. The Orange allowed 40 points in the paint and much of it lies on the shoulders of Thompson. Georgia Tech center Ben Lammers feasted on the inside with 23 points on 11-of-18 shooting. Here is the Yellow Jackets' made shot chart from last night: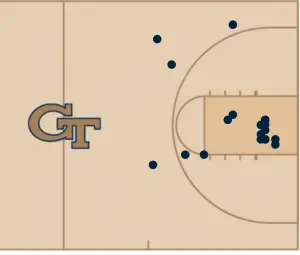 That blob in the middle can't happen with some make-or-break games upcoming. As for Thompson, a simple lack of awareness led to these two alley-oops: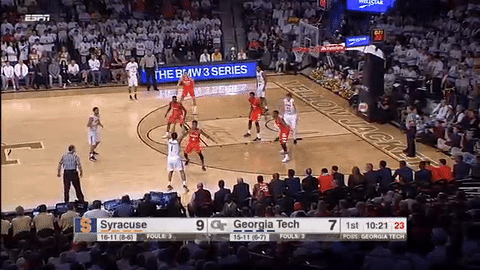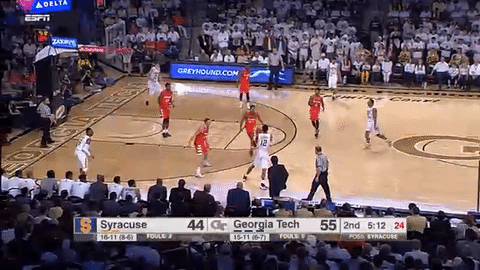 Thompson was the only one giving anything on offense and Tyler Roberson got in foul trouble which forced Jim Boeheim's hand, but at this point, it's getting unbearable to watch.
(adsbygoogle = window.adsbygoogle || []).push({});