Yesterday, the ACC announced its all-conference teams for the 2016-17 season as well as Player of the Year, Defensive Player of the Year,  Coach of the Year and more. ACC Player of the Year went to UNC's Justin Jackson, and Duke's Luke Kennard was the only unanimous All-ACC selection. SU's Andrew White III was named Third Team All-ACC after leading the Orange and finishing 8th in the ACC at 17.9 points per game. Tyler Lydon earned an Honorable Mention spot to round out Syracuse's hardware.
Syracuse has had a representative somewhere on the All-ACC list every year since joining the conference, but this season marked the worst the Orange had fared in four years of membership. In 2014, C.J. Fair made first team All-ACC with Tyler Ennis named to the second team and Jerami Grant was an honorable mention. In 2015, Rakeem Christmas was first team All-ACC. Last season, Michael Gbinije was second team. This year marked the first time no Syracuse player had been named to the first two teams since joining the ACC.
Andrew White is no stranger to scoring; unlike John Gillon, White wasn't a diamond in the rough Jim Boeheim found at a mid-major such as Colorado State. White played Big Ten basketball last season, and before that Big 12 basketball with Kansas. This isn't his first time receiving season recognition. White was named an All-Big Ten Honorable Mention last season after finishing sixth in the conference in scoring with 16.6 points per game. If Syracuse were to make the tournament this season, White would do the one he's never done at any of his three schools: start an NCAA Tournament game.
Tyler Lydon already has some March experience, but it didn't help him play well enough this season to get All-ACC. Lydon was one of 10 players to be named honorable mentions yesterday, and the Syracuse sophomore was even at the bottom of that list. You need 10 votes from the ACSMA to be an honorable mention, and that's exactly what Lydon got. He was the very last player to make the cut.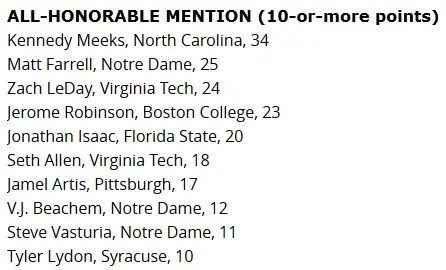 Projected as high as a lottery pick before the season, Lydon hasn't always lived up to the reputation he built last year. His 13.4 points per game are still second most on the team, and there have definitely been games where his rebounding and defense have gone a long way to help the Orange win games. But at other times Tyler Lydon doesn't look like playing his way to the NBA; sometimes it seems like he's still getting used to college ball. Lydon's missing out on the All-ACC teams is a perfect metaphor for his season. Good, and good enough to be mentioned honorably, but not great.
Posted: Nathan Dickinson
(adsbygoogle = window.adsbygoogle || []).push({});