SU's projected 2018 roster is loaded with athletic wings like Matt Moyer, 2018 commit Darius Bazley and 2017 signee Oshae Brissett. However, the future of the always valuable point guard position is rather bleak. Frank Howard and incoming 2017 guard Howard Washington is all Syracuse has in terms of floor generals for 2018. While both could improve this year, ideally Syracuse would like to add some more talent and depth to the position going forward. Here's an update on two 2018 guards that could do just that.
Eric Ayala: 
Boeheim and company have wanted Ayala for a while. They even tried to persuade him to reclassify and join the Orange this upcoming year. However, the 6'3" Delaware product decided to remain in the 2018 class. Instead, the 3-star recruit is transferring to well-respected IMG Academy in Bradenton, FL next year. Ranked #91 by ESPN, Ayala may not be the most coveted guard on SU's wish list, but with the current one-and-done culture that may not be the worst thing in the world. Ayala announced his top five schools via the photo below on twitter this past Friday and it appears he will be in Central New York when the defending national champions visit the Carrier Dome.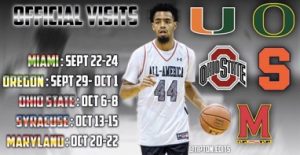 At this point, given the amount of time the SU program has spent courting Ayala, it would definitely sting if he decided to take his talents elsewhere.
Jalen Carey: 
Jump almost 60 spots up the ESPN 2018 Top 100 and you find Jalen Carey sitting at #34. The New York city product is down to SU, Miami, Rutgers, Villanova, Kansas and UConn. As of right now, the biggest threat to SU appears to be Kansas. Where's Hakim Warrick when you need him, right? Anyway, Carey himself says no one has recruited him as hard as Syracuse, according to Adam Zagoria. The 4-star guard plans to make his official visit to SU the weekend of September 8th. Which just so happens to be the same weekend Orange commit Darius Bazley scheduled his official visit to Syracuse. While Bazley continues to climb recruiting rankings, SU still could use another piece to round out it's 2018 class and Ayala and Carey would do exactly that while also filling a need in the process.
(adsbygoogle = window.adsbygoogle || []).push({});