SU football picked up its first ACC win of the season and its first win over Pitt since 2012 last week in an ugly 27-24 victory inside the Carrier Dome. The Orange's week 7 opponent is another feline foe, but this one is a whole different cat. The Clemson Tigers head to Central New York this Friday as the defending national champions, the No. 2 team in the country and with an undefeated record. Dabo Swinney's squad is so good in fact that we're scrapping the idea of 3 players to watch. Clemson is so talented that we have to profile four different players to watch. So without further ado, let's keep tabs on the Tigers with 4 players to watch on Friday for Clemson.
 Kelly Bryant
One of the biggest questions of the week has been whether or not Clemson was going to have its starting quarterback on Friday night after Bryant hurt his ankle last week versus Wake Forest. There is no longer any question. Both Dabo Swinney and the Clemson injury report have said that Bryant will indeed play against the Orange on Friday and that means SU fans need to watch out for the junior. The cousin of Steelers wideout and former Clemson Tiger, Martavis Bryant, Kelly has seamlessly filled the void left by Deshaun Watson when the latter went to the NFL in April. He essentially fits the exact same mold that Watson held in his time in South Carolina. The South Carolina native is an excellent runner who can escape pressure and create something out of nothing. His speed is second-to-none when he gets into the open field and just when you think you have him dead to rights, he'll make you miss. He leads the Tigers in both passing and total rushing and is similar to Eric Dungey in that manner. While he isn't quite as refined through the air as Watson was, he's still a very capable passer who's completing 67.3% of his passes, which is the third best mark in the ACC. For a guy that came into the season known as a runner with accuracy issues, Bryant has blossomed into a very special talent under center for the Tigers.
Travis Etienne
Another big play threat lines up right behind Bryant in the offense. A true freshman from Louisiana, Etienne looks like anything but a youngster. He's not a very imposing figure at 5-foot-10, 200 pounds, but boy can this kid fly. He averages 8.2 yards per carry and is probably the most consistent source of big play yardage that Clemson has at the running back position. While there have been some lackluster games on his resume so far this season (19 yards on 8 carries versus Virginia Tech), his breakout performance (113 yards on just 9 carries) came against a Boston College defense that boasts one of the best defensive linemen in the country in Harold Landry. Etienne has made a habit of exposing weak front sevens so far this season and while SU has been better than expected, there have still been some games where its four down linemen have looked suspect at best in the running game.
Christian Wilkins
Speaking of defensive lines, Clemson probably has the best one in all of college football and it all starts with big Christian Wilkins. The junior is a mountain of a man standing at 6-foot-4 and tipping the scales at 300 pounds. While his size is certainly intimidating, his biggest asset is his versatility. He played as an interior lineman during his freshman campaign in 2015, but last year he lined up as an edge rusher at defensive end. So far in 2017, it's been a combination of both tackle and end and he's proven himself to be more than capable at both positions. The Massachusetts native is tied for second on the team in sacks and is a monstrous plug in opponents' running games.  One of the top prospects for the 2018 NFL Draft, Wilkins is definitely someone the Orange faithful should look out for on the defensive side of the ball for the Tigers. Also, the dude has moves: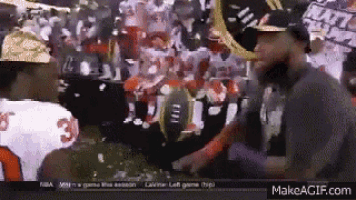 Dorian O'Daniel
This guy right here, is the reason that I had to make this edition of players to watch a little longer. While Wilkins is undoubtedly the leader of the front seven, O'Daniel has been the Clemson defense's most productive member, simply filling up the stat sheet. The 6-foot-1, 220-pound linebacker is a fifth-year senior in his second season in a starting capacity. Coming into the season, the Maryland native had just 60 tackles. Just six games into his 2017 campaign, he's already got a team-high 48. He's tied with Wilkins with 2.5 sacks on the season and also ranks second on the team in tackles for loss. For a guy that pretty much stuck to special teams in his first three seasons in South Carolina, O'Daniel has turned into one of Dabo Swinney's most trusted and productive defenders.
(adsbygoogle = window.adsbygoogle || []).push({});