We all know the result. We all heard the roar of the Loud House when the clock struck triple zeros. And of course, we all saw the field storming. If you haven't at this point, you've been living under a rock. However, there were a lot of forgotten elements as well as unseen moments that made this upset possible. Here are the top three:
Eric Dungey Willing Dontae Strickland to a Key First Down
Throughout the season, I've been adamant that Eric Dungey has grown up. Something's different, and it starts with his tenacity. Just look at this critical 4th down play in a tie game.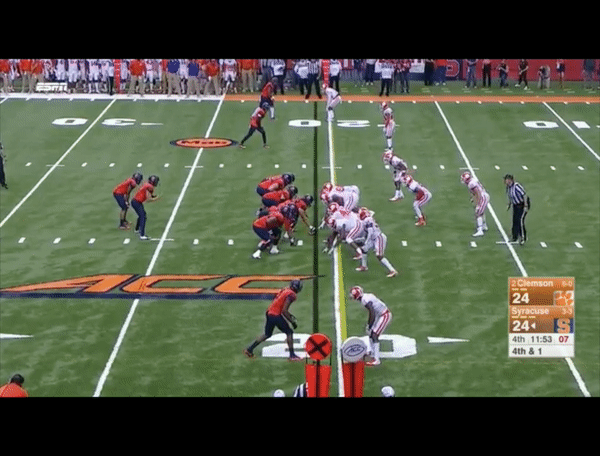 How many quarterbacks would actually have the stones to enter the trenches like that to pick up a do or die first down? Very few. Dungey's maturity and leadership is a key reason why the Orange has yet to lose by double digits. He hasn't been fazed by the big moments. As long as the QB stays healthy for the rest of the year, this may not be SU's last victory over a ranked team this season.
Syracuse Controlled The Clock For Nearly 12 Minutes in the Fourth Quarter
Eleven minutes and 29 seconds to be exact. For a team that prides itself on running so many plays and doing it in a quick fashion, this might have been the most impressive thing the Orange did all game. SU adapted to the circumstances and executed it to perfection. Sandwiched in between two drives that each spanned over six minutes was a crucial turnover on downs forced by the defense. In the two offensive series, the Orange ran 28 plays that netted 92 yards and three points. While you would like a touchdown, Syracuse took the lead on that field goal and followed it up with a 12 play drive that barely moved the ball only 28 yards, but killed the remaining 6:10 on the clock.
Cole Murphy Has Been Effective
For as turbulent as Murphy's season (and career for that matter) has been, the kicker has been consistent these last couple of week. Murphy has only missed two field goals the entire season, both of which have come from 40 yards or deeper. Yes, the out of bounds kickoffs have been a problem, but he has only booted one out of play in the last two weeks. You take improvement where you can get it. Especially when it comes with nine touchbacks in that same span. Murphy was far more effective in this game than Clemson kicker Alex Spence, who botched two field goals inside of 40 yards. Special teams clearly played a huge role in this game, and Syracuse had the clear advantage thanks to Murphy.
(adsbygoogle = window.adsbygoogle || []).push({});