After an embarrassing second half led to a disastrous loss to Wake Forest last week, SU football needs to win both games left on its schedule to guarantee itself a bowl berth. That path to the postseason doesn't get off on very easy footing either. Syracuse travels down to Kentucky for its final road trip of the season to take on a Louisville team that throttled SU, 62-28, in the second game of the season last year. There's a heck of a lot of talent on the Cardinals roster including one guy you're probably already thinking of. With that in mind, let's take a look at Louisville in the newest installment of our three players to watch series.
Lamar Jackson
Oh, come on, don't give me that look. You knew this was coming. How could you possibly talk about the Louisville football team and not talk about Lamar Jackson? I mean, for goodness sakes, the guy is the reigning Heisman Trophy winner and he hasn't exactly slowed down this season. A threat with both his arm and, perhaps, even more so with his legs, Jackson is the most electrifying player in college football. He averages over 400 yards of total offense per game and leads the Cardinals in passing (300 ypg), rushing (117 ypg) and scoring (36 TTD). Simply put, the guy can do it all. He's probably the most athletic quarterback in the country and is shifty, agile and fast in the open field. If he doesn't simply run past you, he'll make you miss and then turn on the afterburners. You can't forget about his arm either, it's like he has rocket launcher attached to the right side of his body. In last season's blowout win for Louisville in the Carrier Dome, Jackson accounted for over 600 yards of total offense. I mean, remember this?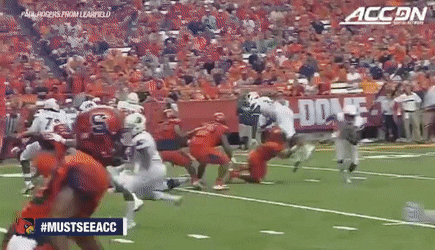 A week after giving up nearly 500 yards to John Wolford of Wake Forest, don't be surprised if Jackson shows off for his home fans and turns in another monster performance.
Jaylen Smith
If Lamar Jackson doesn't have the ball in his hands on offense for the Cardinals, then Jaylen Smith probably does. In the spread offense that Louisville operates out of, it's always important to have a reliable receiver lurking on the outside and that's what Smith provides for Louisville. He's the team's leading pass catcher in terms of both yardage and receptions and that comes despite the fact that he missed three games in the middle of the season. Last season, he was the deep-play threat for the Cardinals and had the third-best yards per catch average in the country at 22.2. While he can still provide that long-ball ability to the offense, this season it's been more about being the top, reliable target that Louisville needs. At 6-foot-4, 219 pounds, he has fantastic size that allows him to go up and grab the ball in contested coverage or create separation at the line of scrimmage by using his wide frame. While he doesn't have great speed in the open field, he again uses his body to his advantage by using the extra muscle he has to run defenders over. While he hasn't gone for over 100 yards since week 7 versus Boston College, he did catch a pair of touchdowns last week against Virginia, so he'll have some confidence and may be able to do some damage for the Cards.
Jon Greenard
Louisville is going to put up big numbers on the offensive side of the ball, no matter what way you look at this game. Jackson is simply too talented not to have a big game, especially if we see the same SU defense we saw last week. Because of this, the Orange offense is going to have to step up if Dino Babers and company want to keep this one close, but Jon Greenard may just make that a difficult proposition. Listed as a linebacker, a more accurate term to identify Greenard would be edge rusher. The redshirt sophomore has turned into a bit of star on the defensive side of the ball this season for the Cardinals and opponents' backfields are really where Greenard makes the biggest impact for Louisville.  Greenard leads the team in tackles for loss with 12.5 and is tied for the team lead in sacks with 6 on the season (he's also forced a fumble). He has an innate athleticism and speed that allows him to beat opposing offensive linemen off the snap and wreak havoc in the face of quarterbacks and running backs. Not only does he get into the backfield often, he usually does it quickly and with big-time impact. He takes away an average of over 7 yards every time he makes a tackle behind the line of scrimmage, which allows him to turn drives on their heels very suddenly. Coupled with that athleticism comes great size that makes Greenard even more dangerous on the defensive side of the ball. Standing at 6-foot-4, 257 pounds, the Georgia native has put on over 30 pounds since arriving at Louisville in 2015, making him an intimidating presence to line up against. For a Syracuse team that allows the 10th most sacks per game in the entire country, Greenard may present some serious matchup issues on Saturday because of both his size and athleticism. Watch for him to be in the Orange's backfield early and often down in Kentucky.
(adsbygoogle = window.adsbygoogle || []).push({});