The campuses of Syracuse and Georgetown may be separated by nearly 400 miles, but you won't be able to tell that when watching the game on Saturday. It'Äôs a rivalry that dates all the way back to 1930. Even though the Orange and Hoyas aren'Äôt in the same conference anymore, a certain level of hate still exists between the schools.
Georgetown has done everything this week from not selling oranges in its cafeterias, to crossing out the letter "s" on signs around campus.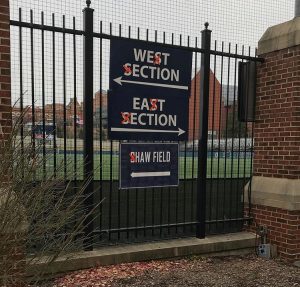 One of the more questionable efforts by Georgetown students is the 'Äú10 things we hate about 'Cuse'Äù poster (See the image above). Here'Äôs our response to the not-so-clever top ten.
10 РCuse goes sock, shoe, sock, shoe: Interesting start to the countdown to say the least. I get what they're going for, but it just doesn't deliver. This type of joke works better on a college gameday poster going after a specific person. 
9 – Traitors to the big east: Considering the ACC is the best basketball conference in the country, I can see why the move would make Georgetown fans upset. I almost think not being a traitor is worse than being one in this case. What are they staying loyal too?
8 РThe jerks from my high school go there: I think this is a subtle brag about Georgetown being an elite academic school. Should have just been direct about it. 
7 РCentral New York is trash: Woah, woah, woah. Hot take alert!!! That's fine. We've got Wegman's and the greatest chicken tenders on earth. Yeah the weather sucks, but there's actually a lot of good things going on up here. We're close to the mountains and some of the nicest lakes in the world. But that's fine, have fun with that traffic. 
6 РThe coach picks his nose: It's hard to argue this one, but that coach is also one of the winningest in the history of the sport. Rumor has it Boeheim often uses the "nose picking" technique to shield his lips while he yells at players sitting next to him on the bench. 
5 РThey don't have a dog: If you're confused by this, don't worry I was too. As it turns out, "Jack the Bulldog" is the team's official mascot. I guess that's pretty cool. There they go again bragging about themselves.
4 – Oranges don'Äôt grow in NY: Clearly just a lack of awareness about the situation. The name 'ÄúOrangemen'Äù was seen as offensive for a number of reasons, so rebranding to 'ÄúOrange'Äù made too much sense. It'Äôs a name and a color that has totally transformed this part of the country and has brought joy to a countless amount of people.¬†By the way, we've got Orange's growing right here on the hill.¬†
3 – Nothing rhymes with Orange: These keep getting worse and worse. Since when is having a unique name a bad thing?
2 – The ACC sucks: C'Äômon. I'm sure you thought of a million different reasons why this is wrong before you even read this part of the post. Who is even in the Big East anymore?
1 РEverything: The classic, "we couldn't think of anything else so we just put everything" move by Georgetown. A very lazy way to cap off the countdown.
Anyways, that's a bit of insight on how Georgetown students are spending their days leading up to Saturday's matchup. Comment below and let us know what you think of the list.
We'll have coverage of the matchup here on Orange Fizz over the next couple of days, as well as live coverage from Washington D.C.'s Capital One Arena.
(adsbygoogle = window.adsbygoogle || []).push({});