Even though Syracuse didn't get the win, Tuesday's game against Virginia had to be relieving for Orange fans. SU went on the road to the No. 3 team in the country and lost by single-digits. There were a lot of goods, and certainly negatives to go with it (it was a loss), and the day after is when you go over the film and learn where to improve. Let's break it down.
SU's offense still needs to find its rhythm
Our first clip is from the first half, with the Orange up by two on the Cavaliers.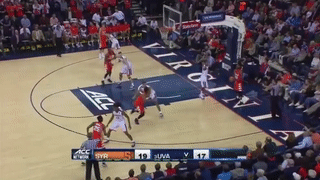 Inbounding from under the basket, a pass barely finds Oshae Brissett, and then goes to Tyus Battle. Battle dribbles to nowhere and takes half a screen from Bourama Sidibe which turns into a double team. Battle steps back out of the trap not to reset the offense, but to give himself enough room to step into a long two. It's a bad possession — the ball goes to Battle, and doesn't move anywhere around the floor until it is shot. Possessions like this happen, and there's nothing wrong with giving your best scorer the opportunity to go to work. But this isn't every possession, it was an out-of-bounds play out of a TV timeout. Jim Boeheim could have drawn up any play to find a high percentage shot, and instead the Orange settled for a contested jumper. The only positive: we got a great Boeheim face out of it.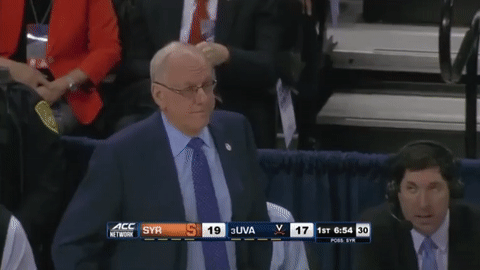 Next up, a play from the second half with similar results.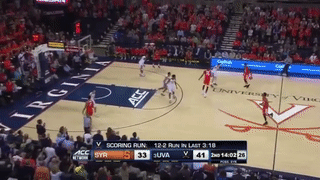 Frank Howard brings the ball past half court. He passes to Battle on the right wing, who takes two dribbles before giving the ball back to Howard. The point guard makes his own move to try and create space before launching a three. It's another example of terrible flow on offense. The Orange's No. 2 scorer passes to the No. 1, who gives it back to the No. 2 for a long ball. Over half the Virginia defense didn't have to move. Just look at Matthew Moyer and Paschal Chukwu on the short corners; it's like they're just waiting to try and get a rebound. SU could at least try to move the ball around the court a bit.
This was the worst time for this kind of possession, as well. Ty Jerome had just hit a pair of bombs to take Virginia's lead from two to eight. With the game getting closer to the home stretch, it felt like a time when Syracuse needed to get points to keep it from getting out of hand soon. Instead, the Orange didn't make an attempt to penetrate or even use half the shot clock.
Rebounding will keep Syracuse in games
After the 21 offensive rebounds Syracuse gave up to Notre Dame, Orange fans needed to see a good rebounding day. It did, as SU out-rebounded Virginia, 41-31.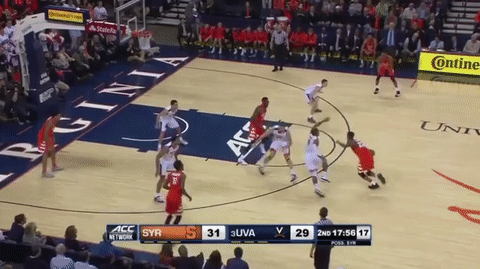 This is just an outstanding offensive board from Matthew Moyer, but it further proves the point. Rebounds get the Orange more possessions, and SU needs as many opportunities as it can get if the offense is going to be as stagnant as seen above. If Moyer and others can continue to pull in rebounds while surrounded by three opposing players, Syracuse will be able to stay in some games longer than it should.
One example of awful 2-3 zone
I don't like knocking the SU 2-3 zone, because it is the only reason the Orange will win anything against ACC teams this season. This possession, however, calls for an exception.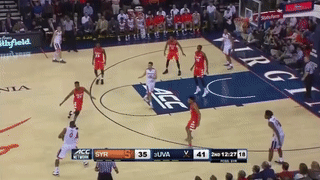 Virginia gets the ball into the high post. Ty Jerome then dribbles back out, and Paschal Chukwu follows him! The middle of the 2-3 zone somehow found himself on a guard at the three-point line. Tyus Battle was far too late getting back to his spot on the rotation, Oshae Brissett had to stay in front of the player in the post to make up for Chukwu's absence, and because of it Jerome is able to make a cross-court pass which is supposed to be a breeze for a 2-3 to cover. Brissett is late getting to the spot, and it's an open three for Kyle Guy.
With all the offensive woes, Syracuse can't afford those mistakes on defense. This team doesn't have the luxury.
Posted: Nathan Dickinson
(adsbygoogle = window.adsbygoogle || []).push({});