The NFL Draft is in the books and Syracuse had a player selected for the first time since the Broncos selected punter Riley Dixon two years ago. Zaire Franklin, by far the most consistent defensive player for Syracuse in recent times, was selected with the 235th pick of the draft by the Indianapolis Colts. From there, four Syracuse players were picked up as undrafted free agents; Jamar McGloster, Parris Bennett, Steve Ishmael and Erv Philips.
It was refreshing for Syracuse fans to see two of their most gifted wide receivers earn spots on major rosters – Ishmael was picked up by the Colts while Philips was grabbed by the Tampa Bay Buccaneers. The former was projected to go in the fifth or sixth round but ended up undrafted; he may be encouraged that Andrew Luck is their quarterback (when healthy) and former Syracuse teammate Franklin is also with the team. Meanwhile, Philips will look to make a positive impact during his early days with the Buccaneers.
You could make a viable claim that Ishmael is more talented than Philips. You won't find too many who would dispute that. However, Philips could enjoy the better pro career. His ability to line up either outside or in the slot gives him versatility with Tampa Bay. Mike Evans could use the receiving help. Also, the Buccaneers are very much building for the future – their roster is still relatively young.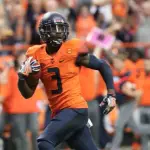 Orange fans will remember Philips for his impact and influence at key moments; he was clutch. Philips finished his career as the all-time receptions leader with the franchise. Dino Babers offense puts a lot of balls in the air, but for a program that developed Art Monk and Marvin Harrison, Philips recorded more receptions than both during his time at Carrier Dome.
Work Hard And Philips Will Be Rewarded
More often than not, undrafted free agents tend to get cut during the summer months. In the case of Philips, that might not happen. Tampa Bay will see how talented Philips is and his ability to make plays as both a receiver and on special teams could raise his profile with the coaching staff. Returning is an important skill for any wide receiver and his speed, officially registered as a 4.60 runner in the 40-yard dash, could give him a slight edge over some of his teammates. Lining him up out of the backfield, in a similar way to that of Tavon Austin, is another plausible option to consider.
What do the Buccaneers have to lose in this situation? The NFC South is a very competitive division but taking a chance on a young talent is a wiser move than opting for another mediocre wide receiver. Philips had 89 receptions for 904 yards, notching four touchdown catches last year.
Surround Winston With Talent And Success Will Follow
After the draft the Buccaneers are 40/1 to win the Super Bowl with Betway. Philips can help the depth at wideout for Jamies Winston. Philips could be an exciting prospect and Buccaneers fans will want to see him and Evans in action together.
Given the opportunity to develop, Philips has the skillset to succeed in the NFL. With the right nurturing, the former Syracuse wide receiver could mature into a Danny Amendola-type player with Tampa Bay. Evans is always going to be Winston's top receiving option but Philips is used to playing second fiddle anyway. The sum of the Buccaneers is bigger than its parts and Philips could have a key role to play, both offensive and on special teams, next year and beyond.
(adsbygoogle = window.adsbygoogle || []).push({});